5 Former WWE Superstars who will not return to the company
Many wrestlers have come and gone from WWE over the last few decades. While many left the company and hoped to return, others have made it clear this isn't an option.
There are several former Superstars that WWE wouldn't welcome back, but there are also several stars that have claimed publicly that they won't go back to the company where they found fame.
Not every WWE star sees their time in the company as a highlight of their life, which is why many have stated that they wouldn't want to return and get locked into another contract.
Let's look at just five former WWE stars who have stated that they don't want to return to Vince McMahon's global wrestling company following their departure.
---
#5 AJ Lee made it clear that she has retired from WWE

AJ Lee's husband CM Punk has worked in wrestling again as an analyst. However, Lee hasn't so much as stepped back into WWE's ringside area since she retired back in 2015.
The former WWE Divas Champion has since moved on to a new chapter in her life as a comic book writer and author. Lee has stated several times that she doesn't have any desire to make any kind of return to the ring. The former star suffered permanent damage to her cervical spine ahead of her retirements and she still cites the injury as one of the reasons she retired early.
When CM Punk made his return on WWE Backstage back in 2019, AJ was asked if she would like to join the show, as well. As noted, the former WWE star made it clear that she was still very much retired.
#4 Karl Anderson doesn't wish to return to WWE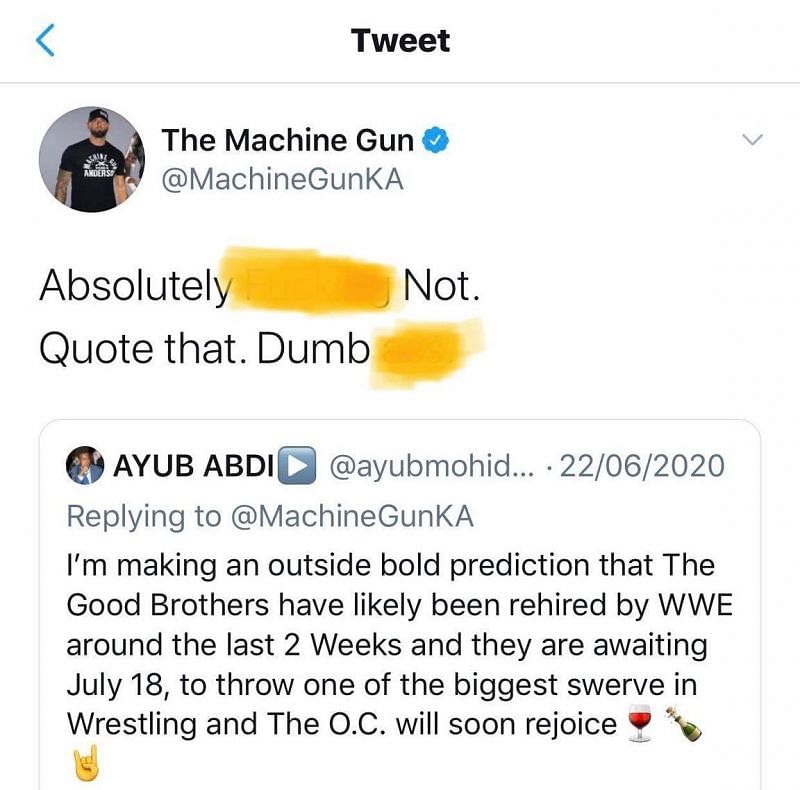 Karl Anderson and Luke Gallows signed with WWE in 2016. At the time, they injected some life into the tag team division. Despite their work with both Finn Balor and AJ Styles, The Club was unable to make the desired impact on the WWE stage. This came as a surprise to some fans because the two men had already proven themselves all over the world.
WWE shockingly released Anderson and Gallows in April. The popular tag team was a part of cutback following the COVID-19 pandemic, which left WWE stationed at the Performance Center.
Ahead of their release, The Good Brothers were a part of The Boneyard Match alongside AJ Styles and The Undertaker at WrestleMania 36. This was the former tag team champions' last appearance with WWE. If Anderson's comments on Twitter are anything to go by, fans shouldn't expect him to return to the company, where he spent four years, any time soon.
When rumors regarding his return to the company circulated earlier this year, Anderson responded with "Absolutely F**king not."
#3 Justin Gabriel turned down a WWE contract

PJ Black has been able to turn his career around following his WWE exit back in 2015. The former tag team champion even revealed in 2019 that he turned down a chance to return to WWE.
Gabriel signed with Ring of Honor because it was the company that offered him the most freedom. However, the former WWE star revealed to Chris Van Vliet that there was an offer on the table to join NXT.
"Right before Ring of Honor, I actually got an offer from NXT. They wanted me to go back there. There were a couple of other offers too, from TNA and stuff, and I chose Ring of Honor because they give me freedom and it's a great deal financially. It's only for 12 months too. After that, it becomes like a 30-day notice deal. I have a feeling it's gonna be like two or three years, but let's see what happens."
Gabriel signed a one-year deal with Ring of Honor in January 2019. He is currently working on a storyline with Marty Scurll.
#2 Chris Jericho has made it clear that he doesn't want to return to WWE

There was a time when Vince McMahon and Chris Jericho had a close relationship. So much so, that he asked McMahon's permission first when Jericho performed for NJPW.
It appears that those days are over. The former AEW World Champion has publicly claimed many times that he won't return to the company where he famously became the Undisputed Champion.
During a live stream on his Youtube Channel over the summer, Jericho confirmed that he wasn't looking to return to WWE any time soon.
"It's not going to happen. I'm really enjoying being in AEW. I loved my time in WWE, I love Vince McMahon, I learned a lot. I had a lot of fun, but listen, you can't stay in the same place forever. You become stagnant if you do and I think you need to push yourself to do something new. The fact that AEW was live without a net when I first showed up and all of us have done such a great job of promoting this brand and promoting this company."
The former WWE Champion recently talked about how disappointed he was following his WrestleMania 33 match, which ultimately caused him to walk away. Jericho has since become a huge part of AEW and the reason that the promotion has succeeded in their first year.
#1 Dean Ambrose doesn't want to return to WWE

Dean Ambrose, who's now known as Jon Moxley in AEW, has made it clear numerous times that he doesn't ever want to return to WWE.
Moxley is the current AEW World Champion. He has been in the best form of his career over the past year since he gained much more freedom. Moxley has been very outspoken about his WWE career in the year since his departure. Recently, Mox noted to ReelTalker.com that he wants to wrestle well into his 50s but he wants to do so for AEW.
"Yeah, it's definitely [AEW]," Moxley said. "I've become great friends with Tony Kahn, who is a great dude and the most successful promoter outside of Vince in [however] many years. We've been able to create something as a team and to get through the challenge of this pandemic, and well, stay alive [as a promotion]. I'm incredibly proud of everybody [in AEW]. I'd like to wrestle till I'm in my 50's, hopefully. Whatever that means? I don't know."
Moxley also talked about a return to WWE. He stated that he would rather work in McDonald's.
I would rather work in McDonald's than be a producer in WWE. You talk about a thankless job…Or be on the creative team at WWE, I would rather like, tar driveways in the summer heat than be a creative member of the creative team in WWE."
Moxley is currently enjoying a 184-day reign as AEW World Champion and his wife, Renee Young, recently departed from WWE, as well. Many expect her to join Moxley in AEW as soon as her no-compete clause comes to an end.
Categories
One response to "5 Former WWE Superstars who will not return to the company"