5 Possible endings to the Roman Reigns vs. Kevin Owens feud – Crucial match at Royal Rumble, epic betrayal on the cards
Just when Roman Reigns thought he was done with Kevin Owens, the latter returned on WWE SmackDown. Not only that, KO and Adam Pearce beat Reigns in his own game after tricking him into signing a contract for a title match at Royal Rumble 2021. Now, Reigns is scheduled to put his Universal Championship on the line as he gears up to face Owens once again.
The feud between Kevin Owens and Roman Reigns has its unique charm. In this article, we will take at five possible endings to the ongoing rivalry between both these Superstars. So, without further ado, let's begin.
---
#5 Roman Reigns ends their rivalry at Royal Rumble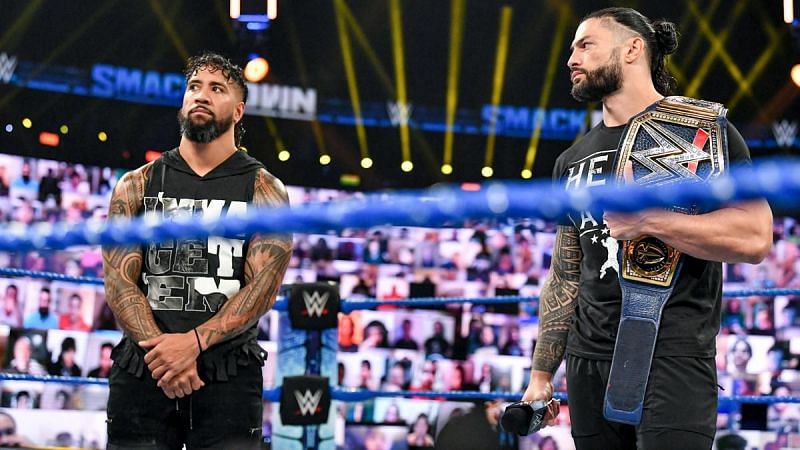 For the last few months, the creative have made it clear that Roman Reigns controls the game on WWE SmackDown. He was constantly shown as someone who was pulling the strings backstage with a little help from Paul Heyman. In fact, he believes that he gets to bully the brand because they owe him for making SmackDown the 'A show'.
Truth be told, this sits perfectly well with Roman Reigns' heel persona. He has embraced this side of his gimmick with utmost perfection, and his 'influence' on the booking makes him look quite convincing when he claims to be The Tribal Chief. Thus, it makes you wonder how long will he actually put up with Kevin Owens on SmackDown.
The two Superstars have been feuding for a long time on WWE SmackDown. In fact, Owens is the only challenger who took the fight to Roman Reigns. He also teamed up with Adam Pearce to trick Roman Reigns into putting his Universal Championship on the line at Royal Rumble. The latter is clearly frustrated, and he looks keen on ending this feud once and for all.
As has been the case in each of Roman Reigns' big fights over the last few months, it is expected that he will once again have Jey Uso's help at the upcoming. We have already seen the same thing unfold in a TLC match as well as in a Hell in a Cell match. Therefore, it makes you wonder if the creative would want to continue with this feud after both Superstars lock horns for the third time later this month.
In the build-up to their match at Royal Rumble, Roman Reigns could make Kevin Owens agree to a condition that would state that he will have to drop his quest for the gold if he loses in the title match. It would put a reasonable end to this rivalry while also allowing both Superstars to explore other challenges on WWE SmackDown.
#4 Kevin Owens cripples Roman Reigns' biggest strengths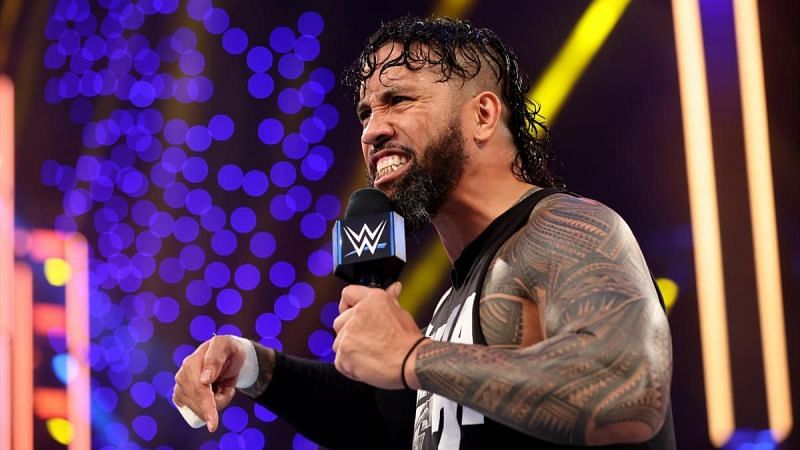 As of now, it appears that ending the rivalry between Roman Reigns and Kevin Owens at Royal Rumble would be the best possible option. However, it doesn't mean that Kevin Owens can't lay the seeds of potential betrayal before moving on from this feud. Even if he fails to win the Universal Championship at Royal Rumble, Owens could very well deliver a crippling blow to Roman Reigns' alliance with Jey Uso as well as Paul Heyman.
The whole rivalry between Roman Reigns and Kevin Owens kickstarted when the latter objected against the way in which The Tribal Chief was treating his family member, Jey Uso. It would be reasonably easy for Owens to cause a rift between Jey Uso and his cousin. All he needs to do is remind him how essential he has been for Roman Reigns' title reign.
This possibility isn't just limited to Jey Uso as Kevin Owens can do the same with Paul Heyman. Let's not forget that the biggest reason why Roman Reigns has to lock horns in a title match against Kevin Owens is that Paul Heyman took the responsibility of contract signing and messed it up. If Reigns humiliates Heyman, the latter could be convinced that to turn on his client and Owens will ensure that he does the job behind the scenes.
#3 Kevin Owens finally finds a friend in his corner while facing Roman Reigns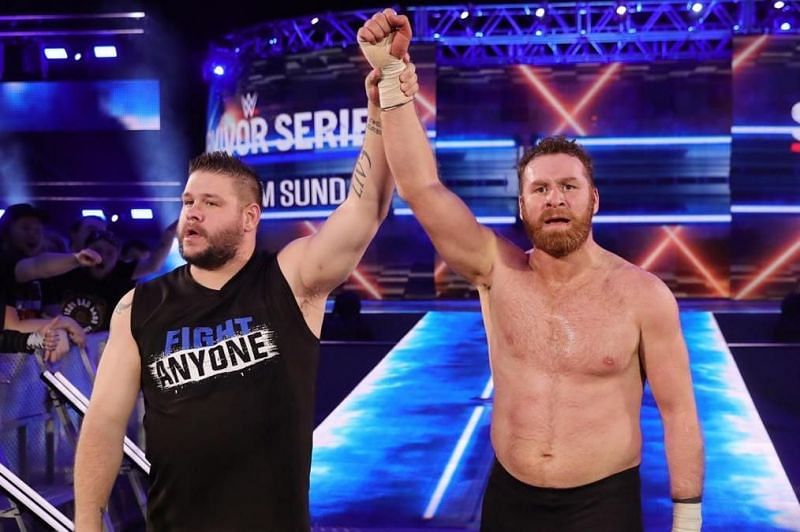 Throughout this feud between Roman Reigns and Kevin Owens, an underlying narration has portrayed the latter as someone who has no friend left in his corner. In fact, the creative stressed extensively on this point when Reigns and Jey Uso were constantly bullying Owens on WWE SmackDown for weeks.
One of the aftermaths of this feud could allow Kevin Owens to find an ally for himself when he goes up against Roman Reigns. It is important to note that the biggest reason why KO has failed in front of Reigns is because the latter has the option to rely on Jey Uso. This threat could be neutralized if Owens finally finds a friend who would help him throughout the rest of this rivalry and beyond.
We could see someone like Sami Zayn go back to being in Owens' corner, and the WWE Universe will undoubtedly enjoy this reunion. We could also see someone like Daniel Bryan align with Owens for mainly two reasons. Firstly, Bryan was even brutalized by both Roman Reigns and Jey Uso. And secondly, Owens literally proposed that they should compete as a tag team last
#2 Kevin Owens dethrones Roman Reigns as the Universal Champion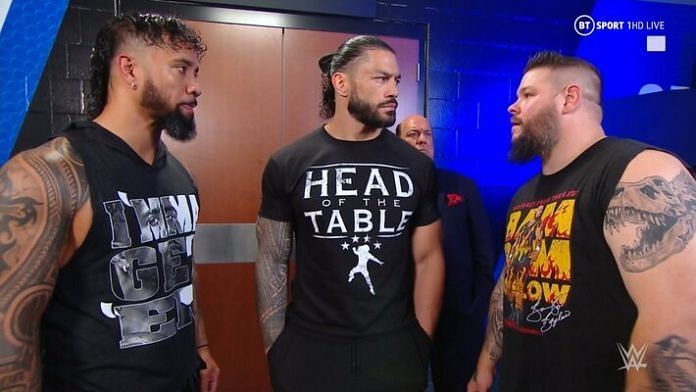 Roman Reigns, losing his title, appears to be the most unlikely option amongst the ones that we have listed here. However, the possibility of Kevin Owens ultimately taking away the Universal Championship from Roman Reigns cannot be ruled out completely. It would make for a shocking result – something that will create a lot of buzz amidst the fans following Royal Rumble.
We have seen Roman Reigns dominate WWE SmackDown with the Universal Championship resting on his shoulder. However, watching him rule the Blue brand without the gold would make for an exciting prospect. It would also show how much he needs Jey Uso or his heelish techniques to remain The Head of the Table – a title that he seems to love.
That said, one of the reasons why WWE wouldn't go for this ending is because it would mean that this feud will have to extend in order to include a title rematch. Instead, WWE would rather have Roman Reigns keep the Universal Championship until WrestleMania where he will probably lose his gold to some other
#1 Kevin Owens turns heel after his feud with Roman Reigns
It was good to see Kevin Owens involved in a title picture against Roman Reigns after KO was forced to spend months on the sidelines. It would be safe to say that he nailed his role as a good guy in his feud with Roman Reigns and actually managed to get the fans to root for him during the encounter between the two Superstars.
That being said, we can't ignore the fact that while Kevin Owens is good as a babyface, he is brilliant as a heel. We haven't seen that side of his character in a very long time. It is possible that the end of the feud between Roman Reigns and Kevin Owens coupled with the latter's failure in winning the Universal Championship will force him to embrace the heel side of his persona.
Even if the creative doesn't want to turn him into a heel, they should undoubtedly book Owens in a manner that would make him look like an anti-hero. It is challenging to keep the fans invested in a gimmick for so long, and Owens deserves a chance to take control of his narration on SmackDown, especially when the show is drawing so much attention.
The only reason why WWE might decide against this move would be to keep enough babyfaces on the Blue brand so that Roman Reigns continues to look like the most exciting heel. We hope that the creative will roll this dice in the coming months and allow Owens to reunite with his best qualities once done with Roman Reigns.
Categories