Hope is true: The "next Brock Lesnar" spotted in WWE?
Any WWE star wouldn't like to be labeled as the second coming of any legendary Superstar, no matter how much of a compliment it is. But when it comes to Superstars like Brock Lesnar, there aren't many that resemble him in any way.
There's a reason why Brock Lesnar is considered a generational talent in WWE. Although some labeled Lars Sullivan as the next Brock Lesnar, the former NXT star's issues outside the ring has made fans forget about that label.
There is a 22-year old who has a shockingly close resemblance to Brock Lesnar – and he isn't even a wrestler. Parker Boudreaux is a football player. He has garnered a lot of attention, including a tweet from Paul Heyman:
When speaking to Lucha Libre Online, Parker Boudreaux stated his interest in professional wrestling/WWE as well and labeled himself as "the next big thing", a term used to describe Lesnar. Boudreaux also addressed the comparisons with The Beast Incarnate:
"I think Brock Lesnar is a tremendous athlete, and while I do take it as a compliment to be told we look alike, I look forward to people getting to see my own unique identity and character in professional wrestling, as well as watch me be my own person. I'm one of a kind. The Next Big Thing," said Parker Boudreaux.
 We hope this is true because he's a young and exciting prospect. At just 22 years old, he has a bright future ahead, though we will admit that the Brock Lesnar comparisons may only hurt him in the long run.
Hope isn't true: WWE still not locked on WrestleMania 37 world title matches?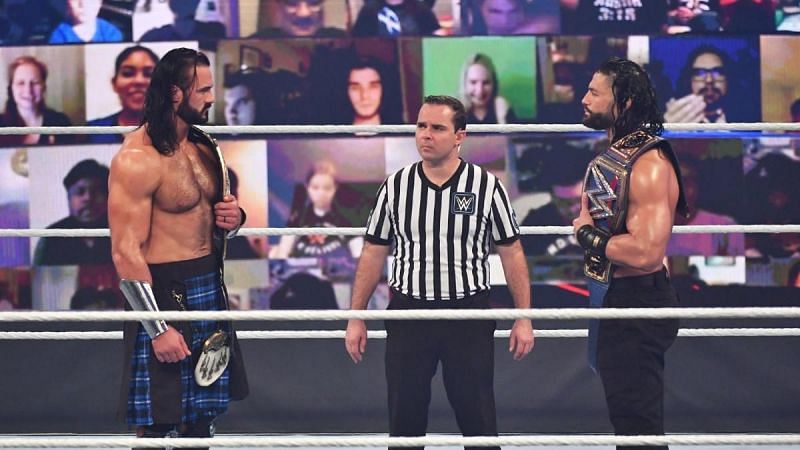 Drew McIntyre and Roman Reigns seem poised to be WWE World Champions heading into WrestleMania 37. While Drew McIntyre's status as WWE Champion is less certain due to his upcoming Royal Rumble match against Goldberg, Roman Reigns being the Universal Champion at WrestleMania 37 seems certain.
Royal Rumble is just a week away as of this writing, and given that it's the beginning of the road to WrestleMania, one would assume that WWE has plans locked in for the two World title matches at The Grandest Stage Of Them All.
However, that doesn't appear to be the case. Dave Meltzer of the Wrestling Observer Newsletter reported that WWE doesn't have any concrete plan in place for the two World Championship matches:
"The reason there has been no television direction for the main matches at Mania and you don't hear anything about them is because there isn't any. The only thing we know is the top Raw championship matches are not locked in. On Smackdown, Reigns has two different opponents that are being considered so Bryan is not a lock"
We hope this isn't true, because booking matches without much build in the last month doesn't give them a big fight feel like it
Categories