WWE Rumor Roundup – Becky Lynch reaches out to fired Superstar, Massive name coming back for WrestleMania 37, Jon Moxley open to returning
Welcome back to another stacked edition of SK Wrestling's WWE Rumor Roundup. All roads lead to the Royal Rumble pay-per-view with several updates about WWE WrestleMania 37 also doing the rounds.
In addition to WWE's plans for the upcoming pay-per-views, we also have many stories regarding other top Superstars.
A recently released Superstar recalled Becky Lynch's thoughtful gesture after being fired from WWE.
Details about how WWE books the eliminations of the Royal Rumble have been disclosed. Jon Moxley also made a big statement regarding a possible WWE return.
We end the roundup with an update about Roman Reigns' new theme song.
---
#5. Becky Lynch reached out to Zelina Vega after the WWE release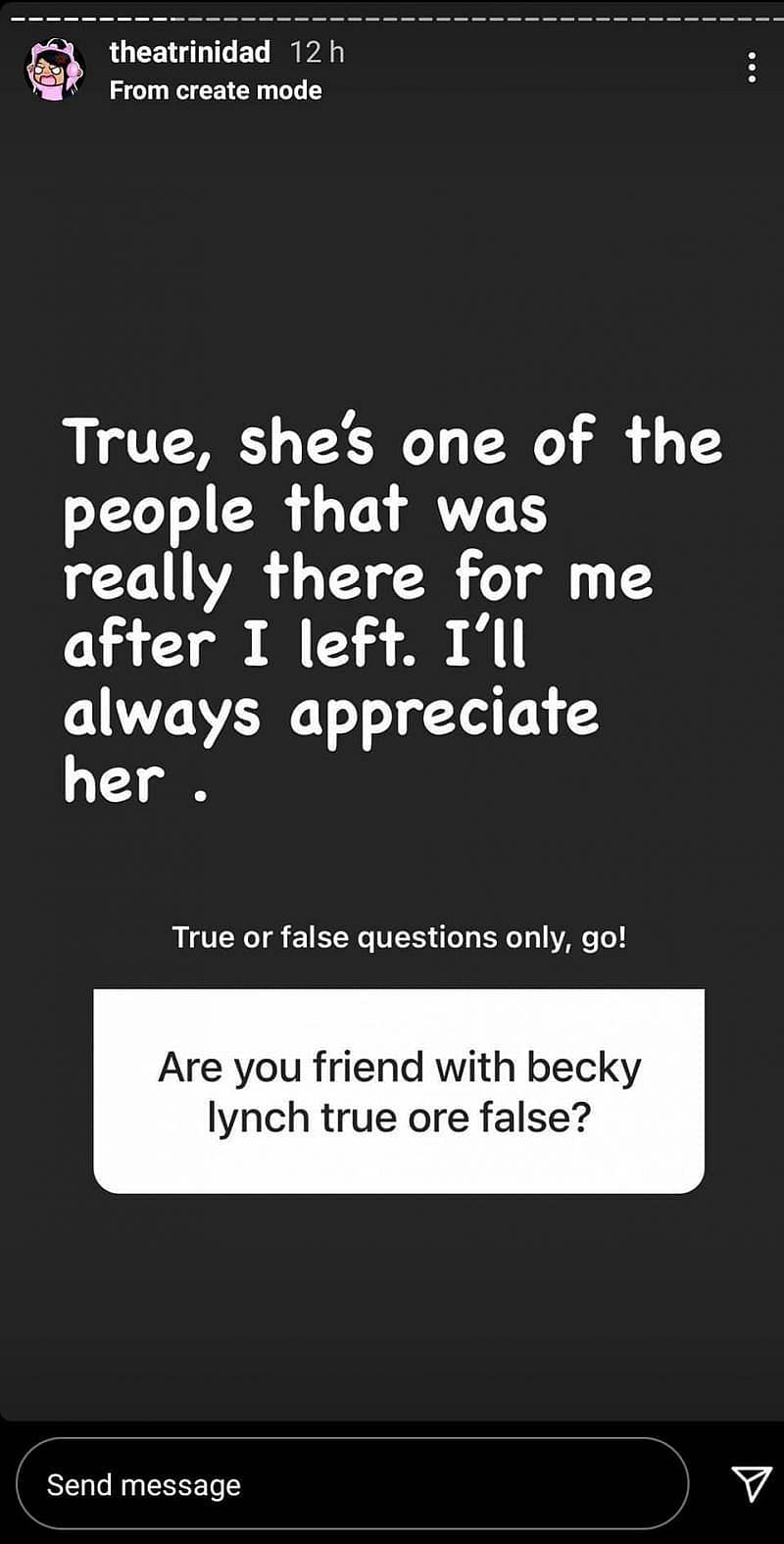 Thea Trinidad, fka Zelina Vega, was unceremoniously released from her WWE contract in November 2020. Vega's WWE ouster stemmed from the controversies surrounding the company's third-party edict.
Zelina Vega has continued to stream on Twitch, and she is also active on many social media platforms. A fan recently asked the former WWE Superstar about her relationship with Becky Lynch.
Vega responded by stating that she appreciates Becky Lynch a lot as the former RAW Women's Champion was one of the many people who reached out to her following the release.
Here's what Zelina Vega posted on Instagram:
"True, she's one of the people that were really there for me after I left. I'll always appreciate her."
Becky Lynch has also been in the news of late as The Man posted a photo with her baby daughter Roux.
There are currently no updates about Becky Lynch's return, but rumors circulated not too long ago about Vince McMahon wanting to get her back in time for WrestleMania 37.
As for Zelina Vega, the former WWE Superstar is yet to find a new company, and we expect her to be back in action sooner rather than later.
#4. WWE's plans for WrestleMania 37, Big names returning
Royal Rumble isn't even in the books yet, and WWE is already locking in the plans for WrestleMania 37.
WWE has already announced that WrestleMania this year will be held over two nights, similar to last year's edition.
As WWE would essentially have two shows to book, the plans for the event have been altered accordingly. A report from WrestleVotes states that WWE believes a two-night WrestleMania event would need four significant matches.
John Cena is expected to return for WrestleMania 37, with Goldberg also being one of the marquee names set to compete at The Show of Shows.
The Rock is unlikely to appear at WrestleMania 37. Additionally, The Undertaker's status for 'Mania is currently unknown.
"Once a decision was made to run the 2-night card for Mania, the creative team started working on "bigger" ideas. Thought is WWE now needs 4 MAJOR matches, 2 per show. That probably requires outside assistance from big names. Cena & Goldberg nearly locks. Rock unlikely. Taker TBD."
While most people backstage feel The Undertaker is done for good, one call from Vince McMahon is all that would take to get The Deadman back to the ring.
"Follow up on the Taker part. Majority of those backstage think he's done. And rightfully so. However, it only takes one call, from one usually conVINCing man to change all that."
WrestleMania 37 is scheduled to occur on April 10th and 11 at the Raymond James Stadium in Tampa, Florida. WWE also plans on accommodating some fans at the mega show.
#3. Jon Moxley opens up on a possible WWE return
Jon Moxley has been at the forefront of the AEW project as the former WWE Superstar held the AEW World Championship during the pandemic era of wrestling.
Jon Moxley has found a different gear since leaving WWE in 2019 but will Moxley be open to return to Vince McMahon's company somewhere down the line?
Moxley sat down for an AMA session with Bleacher Report, and the former WWE Superstar was asked if he'd be ready for a WWE return on the right terms.
Moxley responded by saying that he would listen to what the WWE has to offer before making a decision. The former WWE Champion stated that he is very proud to be a part of AEW, but he wouldn't rule out doing business with WWE in the future.
"You gotta say never say never because you don't want to run back what you said years later because you don't know what'll happen. Just the creation of AEW was so vital to the wrestling industry, and that's part of the reason why I'm so proud to be a part of it. I wouldn't rule out ever doing business with them again; we had a mutually beneficial relationship for a long time."
While Moxley would be open to the idea of working with WWE again, he would not be in it for the money.
"If they called, I would listen, but I highly doubt we would ever be on the same page. I'd be open to an idea. I don't not like money. I got a kid on the way and gotta put it through college, so ya know. I would take a phone call, but I highly doubt anything would materialize."
Moxley still has a lot to offer to AEW, and given the nature of his WWE departure, a return to Vince McMahon's company would require a lot of work, and it would not happen anytime soon.
#2. Chris Masters on how WWE books the Royal Rumble eliminations
The Royal Rumble match concept will always be remembered as one of the most fascinating WWE creations. The yearly offering comes along with a lot of hype as it kickstarts the road to WrestleMania. It also serves as the platform for some major surprises. However, there are many backstage details of the match that are still not known by the fans.
On the latest edition of SK Wrestling's Inside SKoop with Dr. Chris Featherstone, Chris Masters revealed that the WWE producers are somewhat lenient when it comes to booking the eliminations of the Royal Rumble match.
Meticulous planning doesn't go into every elimination, as there are some instances where the Superstars are given the liberty to work it out themselves.
"From what I remember about it, it isn't so like every single elimination is strategically planned out and who does the elimination. There are a lot of those, yes, but there are some of them where it's just like, 'We need to get a few guys out,' and those might be worked out amongst the guys. So it's kind of a split of both, from what I remember." H/t Danny Hart of SK Wrestling
The Superstars have a say in the eliminations, and that's a good practice to follow while putting together the Royal Rumble matches.
#1. Roman Reigns provides an update on his new WWE theme song
The new and improved heel avatar of Roman Reigns has been one of the best aspects of WWE TV for the past few months. The reigning Universal Champion has reinvented himself as The Tribal Chief, and change of persona has also led to speculation of a new theme song being on the way.
While speaking to Graham' GSM' Matthews of Bleacher Report, Roman Reigns said that WWE is currently working on his new theme song.
The Head of the Table explained that it is essential that they get the theme song's vibe right as it needs to match his character.
"We're working on it. It's not easy because I'm not going to… With this character, it has to be the right vibe. We can't just hire a rapper and check out this guitar riff. It can't be some rock music."
Reigns also admitted that he wasn't a big fan of The Shield's entrance music when it was first introduced.
"The Shield music, I wasn't even really into it back in the day; but over the years, it just started working. You get so used to it that I just time my pace to it. But yeah, it takes some time, and it has to be right. In order to move away from something you've had for so long and is so recognizable like the music that I have now, it's got to be perfect. It's taking some time, but we're definitely working on it, so please be patient."
Roman Reigns' new WWE entrance theme should be unveiled soon, and we hope it is worth the wait.
Categories