Top 5 possible storylines for Brock Lesnar's return to WWE in 2021
Brock Lesnar is one of the biggest names in the sports entertainment world. Lesnar is currently a free agent, as his WWE contract expired last year. While Vince McMahon has not renewed his deal yet, it is unlikely that "The Beast Incarnate" will leave WWE for another promotion.
With WrestleMania 37 quickly approaching, McMahon might be hoping to bring back one of the company's biggest draws. Many fans expect Brock Lesnar to compete at a featured match at "The Showcase of the Immortals." Lesnar lost his latest WrestleMania match to Drew McIntyre. The WWE Universe has changed a lot during Lesnar's absence.
His advocate, Paul Heyman stayed off TV for a while before he associated himself with WWE Universal Champion Roman Reigns. Meanwhile, McIntyre has reigned supreme as the WWE Champion on WWE RAW. Still, ahead of the Royal Rumble pay-per-view, many fans look back on Lesnar's history at the event.
Lesnar could return at the show, or he could make an appearance at another point on the road to WrestleMania. The WWE creative team has the freedom to use him on either RAW or SmackDown in 2021. Here are the top five possible ways WWE could book Lesnar this year.
---
#5 Brock Lesnar wins the Royal Rumble, challenges Drew McIntyre at WrestleMania 37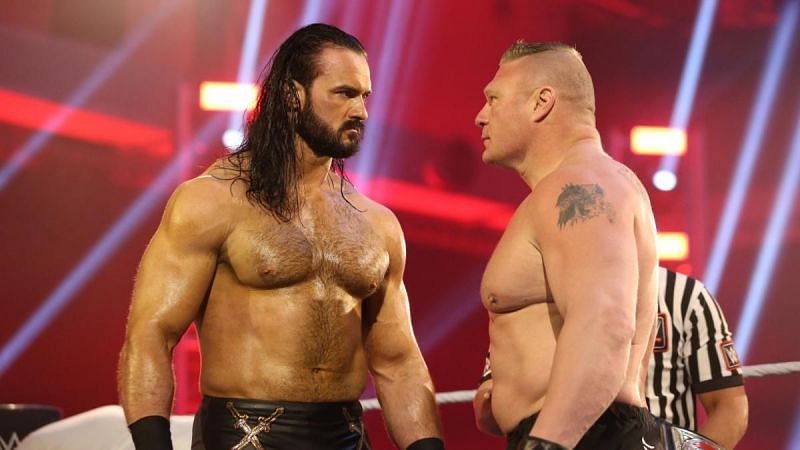 For the first time in recent memory, there is no clear favorite to win the mMen's Royal Rumble Match this year. Last year, a considerable part of the WWE Universe believed Drew McIntyre would rise to the top. Similarly, Seth Rollins was the popular favorite to win in 2019.
But in 2021, there are no clear favorites. Big names like Edge, AJ Styles, Sheamus, Jeff Hardy, Randy Orton, and Bobby Lashley have all declared their entries into the Royal Rumble Match. But no one is a lock to win the battle royal.
On the other hand, Brock Lesnar has unfinished business with the WWE Champion. McIntyre will face Goldberg at the Royal Rumble pay-per-view, but most fans expect him to retain the title.
As a result, if Lesnar returns and wins the Royal Rumble Match, WWE could resume his feud with McIntyre. The two stars could have an electric showdown at WrestleMania 37 and finish their rivalry once and for all.
#4 Brock Lesnar wins the Royal Rumble, goes after Roman Reigns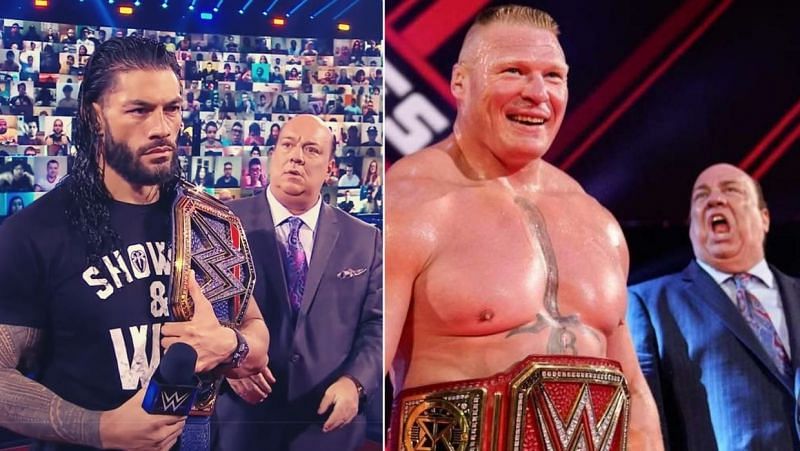 Brock Lesnar could restart his rivalry with Roman Reigns. He's one of the top Superstars in WWE right now. While Vince McMahon once hoped to push him as the company's next face, his "Tribal Chief" gimmick has helped Reigns gain more popularity than ever.
Kevin Owens will challenge Reigns for the WWE Universal Championship at WWE Royal Rumble this Sunday. Although Owens has done an excellent job as a babyface Superstar, Reigns' victory at the show is practically guaranteed.
WWE will probably keep the title on Reigns heading into WrestleMania 37. But few babyfaces on WWE SmackDown feel like they could challenge Reigns at "The Showcase of the Immortals." Shinsuke Nakamura, Daniel Bryan, and Cesaro are the top options available on the blue brand.
Vince McMahon could always go with Brock Lesnar if "The Beast" is available. If Lesnar enters the Royal Rumble and wins the match, he could name Reigns as the champion he wants to face at WrestleMania. There's a lot of history between these two stars. Plus, Paul Heyman could play a significant role in this renewed rivalry.
This year, Brock Lesnar vs. Roman Reigns could headline WrestleMania for the third time. Reigns has never defeated Lesnar at "The Show of Shows." If WWE books him to face Lesnar at WrestleMania, Reigns will likely gain his first WrestleMania main event victory in four years.
#3 Brock Lesnar enters the Royal Rumble, AJ Styles eliminates him to begin WrestleMania feud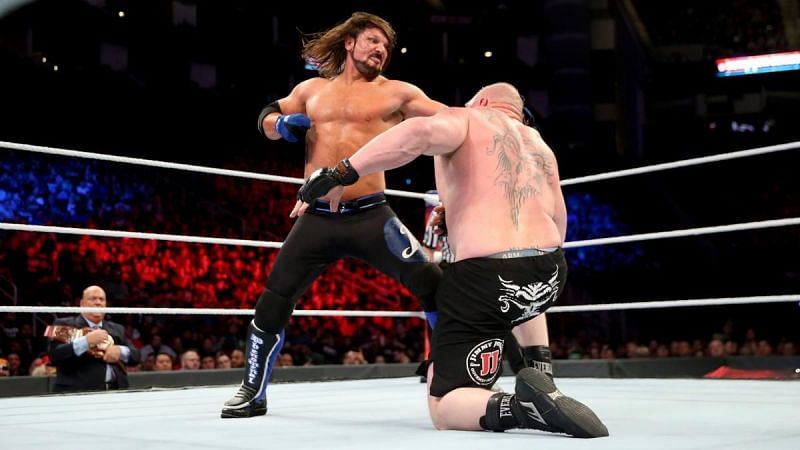 Brock Lesnar has had fantastic chemistry with smaller competitors. "The Beast Incarnate" has had excellent bouts with AJ Styles, Finn Balor, Rey Mysterio, and Daniel Bryan in recent years. Currently, Styles isn't engaged in a feud on WWE RAW.
"The Phenomenal One" unsuccessfully challenged for the WWE Championship at the TLC pay-per-view event in December. Recently, Adam Pearce has booked him against the lower mid-card talents. Drew Gulak, Ricochet, and R-Truth have all lost to Styles on WWE RAW. With these victories, Styles has gained a lot of momentum in recent weeks.
Many fans consider Styles as one of the favorites to win the Men's Royal Rumble Match this year. But he recently lost a WWE Championship Match against Drew McIntyre. Plus, Styles is unlikely to feud with Roman Reigns due to Paul Heyman's presence.
Because Styles is one of the marquee names on the current roster, WWE should book him in a high-profile WrestleMania match. Brock Lesnar could be the perfect opponent for "The Phenomenal One." The popular Superstars previously locked horns in a Champion vs. Champion Match at WWE Survivor Series 2017.
The best way WWE could begin this WrestleMania feud is by booking Styles to eliminate Lesnar from the Royal Rumble Match. Memorable WrestleMania rivalries like Roman Reigns vs. The Undertaker began in a similar fashion. So an epic clash between Lesnar and Styles could begin on Sunday.
#2 Brock Lesnar attacks Drew McIntyre at Royal Rumble, Keith Lee wins the Rumble, setting up a Triple Threat Match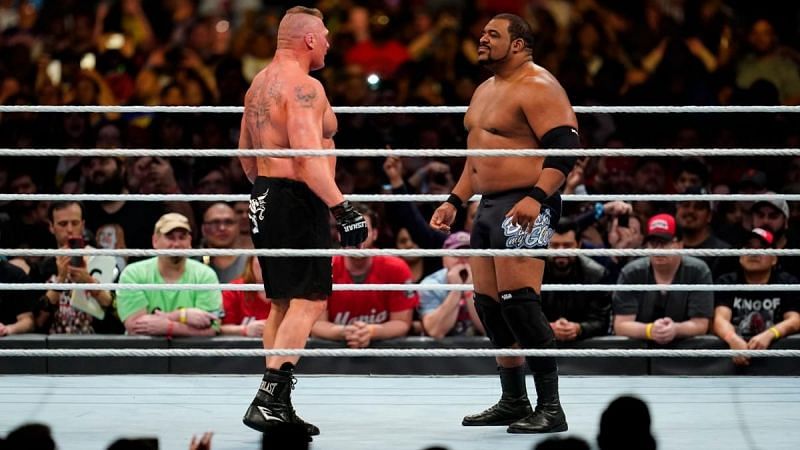 The rumor mills have stated that the company plans to have a triple threat WWE Championship Match between Drew McIntyre, Keith Lee, and Brock Lesnar at WrestleMania 37. One way to lay the foundation for this bout would be to have Lesnar attack McIntyre after his title match at Royal Rumble.
After McIntyre pins Goldberg, Lesnar could show up and destroy the champion. Meanwhile, Lee could win the Men's Royal Rumble Match. He could then opt to chase the WWE Champion. In the storyline, Lesnar could state that he is not done with McIntyre yet.
While Brock Lesnar will likely not win the world title, he will undoubtedly establish McIntyre and Lee as more prominent stars. If WWE books a triple threat match for Lesnar, they can build this bout up with Lesnar's limited appearances on WWE RAW.
It will be a win-win situation for everyone if WWE takes this route. Lesnar and Lee's face-off also received a thunderous reaction at the 2020 Royal Rumble. Many fans would like to see the two stars battle in an actual match.
#1 Brock Lesnar returns on RAW after WrestleMania 37, Bobby Lashley picks a fight with him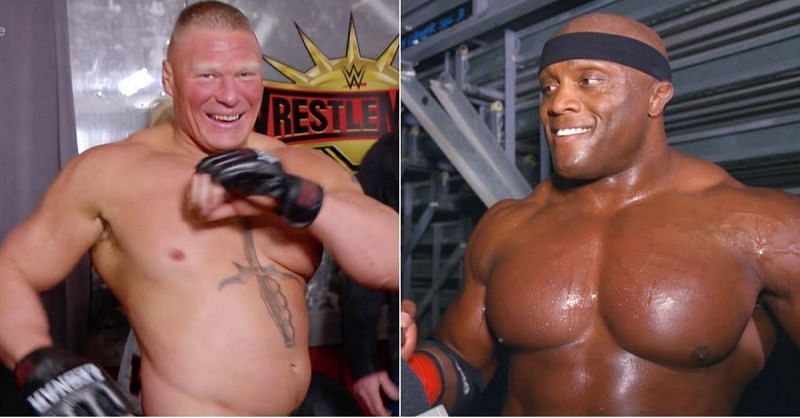 Bobby Lashley vs. Brock Lesnar is a dream match that needs to happen. Lashley is in great shape right now, and Lesnar is one of the most imposing stars on the roster.
WWE aims to have live fans in some capacity for the two-day WrestleMania show. As a result, the RAW after WrestleMania 37 will likely have fans in attendance, too. Last year, WWE did not have any major surprises for the fans at the typically buzzworthy RAW after WrestleMania.
I's hard to blame WWE because the company had to change many plans at the last moment due to the COVID-19 pandemic.
For this year's RAW after WrestleMania, WWE could bounce back by booking Brock Lesnar's much-awaited return at the show. Lashley could choos the occasio to launch into a feud with Lesnar. After all, Lashley has often called Lesnar out on social media.
Practically every wrestling fan wants to see this dream match. It could greatly benefit WWE RAW. The show's ratings have been historically low in recent months, but WWE could draw more attention to the red brand if it books a feud between Lesnar and Lashley.
Categories