WWE RAW after Royal Rumble Preview: Edge picks his WrestleMania opponent, possible title match? (Feb 1st, 2021)
After an entertaining edition of Royal Rumble, we are all set for the first WWE RAW episode following the pay-per-view. Not a lot has been revealed about the show as of yet, but we expect to see the overall impact of several events that transpired at the pay-per-view last night.
In this article, we will take a look at things that can happen on WWE RAW this week. So, without further ado, let's begin.
---
#1 Edge discusses the aftermath of his historic Royal Rumble win on WWE RAW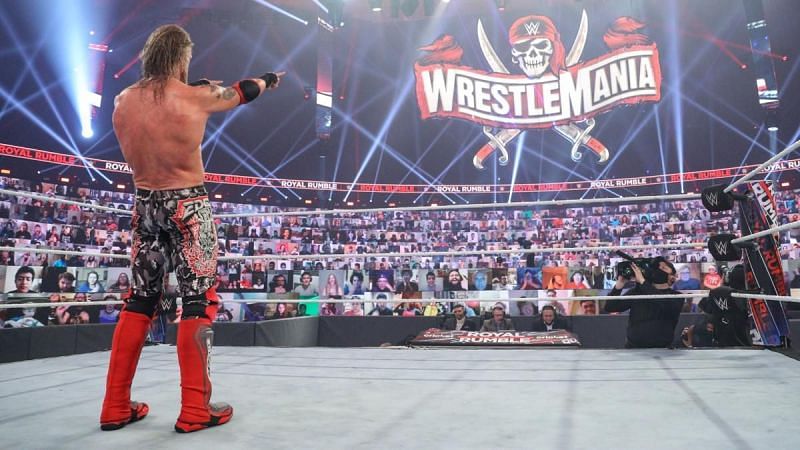 Not long ago, Edge confirmed on WWE RAW that he would step back inside the ring at Royal Rumble. The Rated-R Superstar then became the first entrant for the Men's Royal Rumble Match and left the ring with a WrestleMania opportunity. He is now the third WWE Superstar who has won the prestigious Royal Rumble from No. 1.
Eleven years after Edge won his first Royal Rumble match in WWE, he picked another huge victory that marked the return of this iconic Superstar from a long history with injuries. He was as good as he could get and walked out of the Royal Rumble as one of the best performers at the pay-per-view. During this match, he battled the likes of Randy Orton and Braun Strowman, reunited with Christian, and went out of his way to put over young stars like Riddle, Mustafa Ali, and Ricochet.
Edge's return at last year's Royal Rumble was a huge surprise, but this time the creative did not keep it a secret. Instead, WWE RAW had shown a video package in which Edge delivered a passionate promo about returning on his terms. It appears that he may now have that chance after he has won the opportunity to choose a world champion whom he can challenge for his title at WrestleMania.
Edge is expected to address his huge victory on WWE RAW this week. The fans will be excited to know which title has his attention on the Road to WrestleMania. Drew McIntyre faced and defeated Goldberg at Royal Rumble, and he will welcome Edge as his next challenger. Roman Reigns might not be very happy with a Royal Rumble winner challenging him. But again, it would make for an exciting Spear vs. Spear match.
In addition to that, WWE RAW will also see Randy Orton return on the show. He sustained an injury during the match when Edge assaulted him near the announce desk. Just like last year's episode of WWE RAW right after Royal Rumble, The Viper would like to have a word or two with Edge. Only this time, the latter has a big chance in his hand while Orton needs to keep an eye on 'The Fiend' Bray Wyatt.
#2 Riddle challenges Bobby Lashley for United States Championship on WWE RAW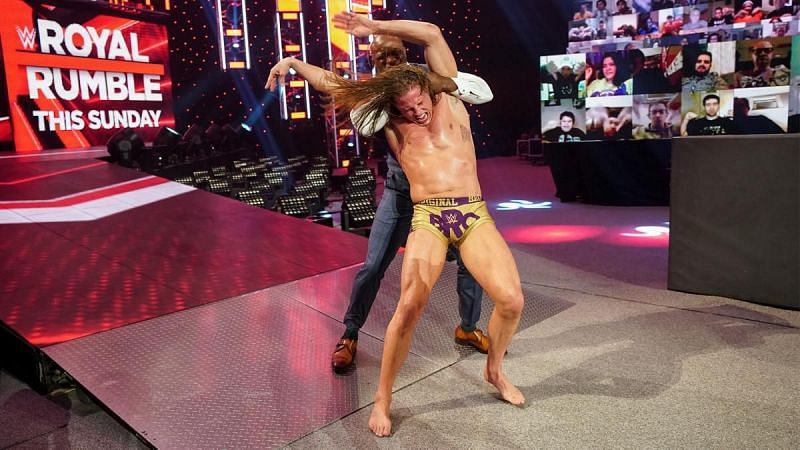 On the go-home episode of WWE RAW before Royal Rumble, Riddle picked an impressive victory in a 'Hurt Business Gauntlet Match'. Essentially, he defeated Shelton Benjamin, MVP, and Cedric Alexander in order to win a shot at Bobby Lashley's United States Championship. Following the match, his celebration was cut short by Lashley, who attacked him from behind.
During the Men's Royal Rumble Match, Riddle ensured that he taunted a frustrated Lashley when the latter was eliminated. The feud between Riddle and The Hurt Business has been a part of WWE RAW for the last few weeks. Riddle now has the opportunity, and he will indeed look forward to challenging Lashley for the US title.
The previous encounters between Lashley and Riddle have been impressive. The Champion often comes across as a dominant performer while allowing enough room for Riddle to look like a credible challenger. The fans would love to see both these Superstars lock horns once again on WWE RAW, especially with Lashley's title on the line.
#3 Alexa Bliss eyes WWE RAW Women's Championship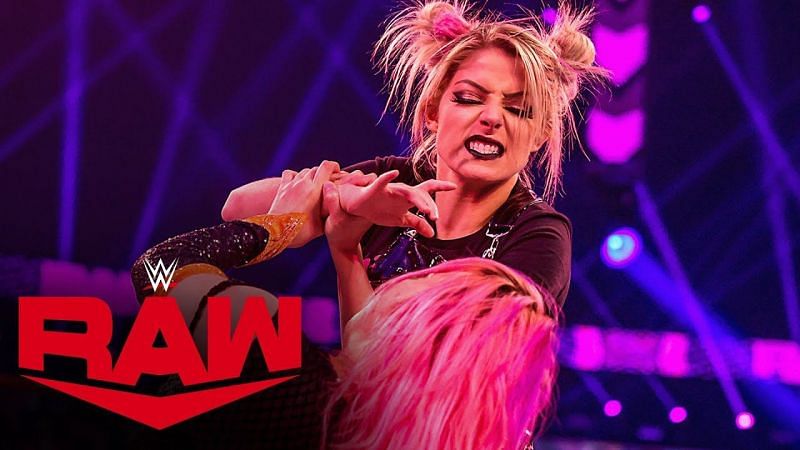 Alexa Bliss has enjoyed a good run on WWE RAW recently. From surprise attacks on Randy Orton to clean victories over Asuka, Bliss seemed to have gained the right kind of momentum ahead of Royal Rumble. In fact, several fans believed her to be an odds-on favorite to win the women's match, but the reality couldn't be more different.
Bliss entered in the Women's Royal Rumble Match as the No. 27 entrant. As soon as she stepped inside the ring, Bliss was attacked by all the other Superstars. Following that, she went to the center of the ring to summon her Fiend-inspired alter-ego, but Rhea Ripley eliminated Bliss before she could step into her other personality.
Bliss will look forward to redeeming herself on WWE RAW after an embarrassing elimination from the Royal Rumble Match. She is expected to continue her ongoing feud with Asuka and eventually defeat her for the WWE RAW Women's Championship. It would be interesting to see if she will be accompanied by 'The Fiend' Bray Wyatt on the show this time.
#4 Xavier Woods avenges consecutive losses against RETRIBUTION on WWE RAW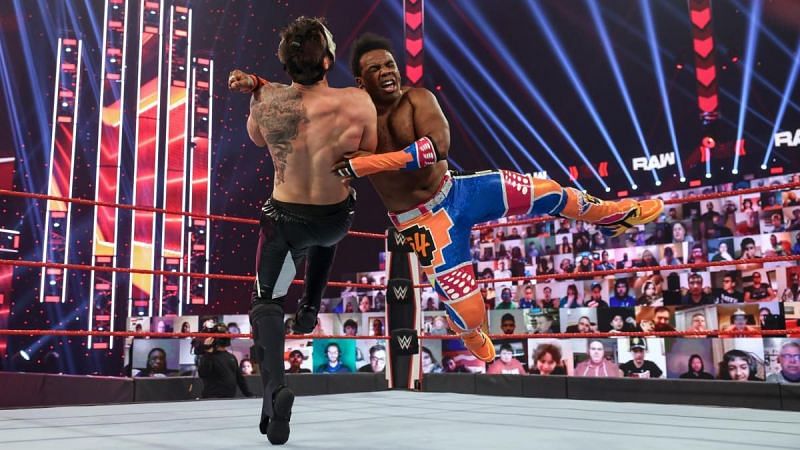 Xavier Woods has taken a lot of punishment from RETRIBUTION on WWE RAW over the last few weeks. His tag team partner Kofi Kingston is currently out with an injury. Mustafa Ali, the leader of RETRIBUTION, has an old score to settle with Kingston. In the latter's absence, he is taking it all out on Woods.
Woods has locked horns with several members of RETRIBUTION on WWE RAW. However, all his encounters with that stable end with Woods taking a brutal punishment at the hands of Mustafa Ali and his masked allies. Now, Woods will look to change the situation on the first episode of WWE RAW following the pay-per-view.
Kofi Kingston did make an appearance during Royal Rumble, but he did not compete in the match. Thus, he is still expected to be by the side of Woods on WWE RAW. However, his injuries will certainly not permit him to pick a fight, and it will be interesting to see what Woods will do in order to get back at RETRIBUTION tonight.
#5 What's next for the Tag Team Championships on WWE RAW?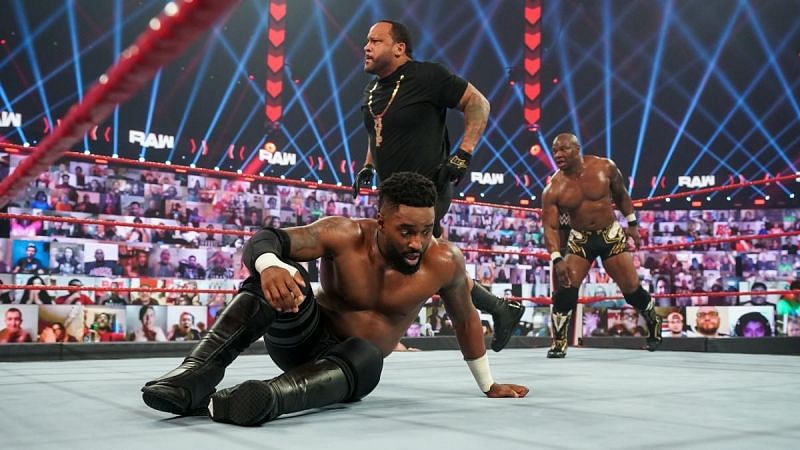 The WWE RAW Tag Team Champions, Shelton Benjamin and Cedric Alexander have not been on the same page for weeks. MVP has tried everything he can to make sure that his groups stay united, but it is always the slightest conflict that ends up affecting The Hurt Business. For instance, their ringside brawl eventually allowed Riddle to win the Gauntlet Match and win a shot at Lashley's title.
With WWE RAW Tag Team Championships resting on their shoulders, Alexander and Benjamin are bound to bump into challengers anytime. Thus, they desperately need to sort out their differences before they have to put their titles on the line. Otherwise, the two Superstars will certainly lose their gold in no time.
There is no concrete reason why WWE RAW are constantly teasing a split between the two Superstars, especially since they won the titles. As of now, they are better as a group, and it will be interesting to see how MVP will manage to get both his men to respect each other as we move forward on the Red brand.
Categories