WWE Rumor Roundup – Big news on Brock Lesnar's status, Former World Champion wants Paul Heyman 'out of his job', $500 billion lawsuit filed – 31st January 2021
It's Royal Rumble weekend in the WWE, and as expected, the majority of the news stories revolve around WWE's plans for the massive PPV.
WrestleMania has also been discussed in detail over the past few weeks. Now, the updates regarding several big names have also come to light. We have some clarity on the WWE statuses of Brock Lesnar and Ronda Rousey.
A top WWE Superstar has revealed that he would love to see Paul Heyman lose his job. Elsewhere, a fan filed an outrageous $500 billion lawsuit against WWE.
A famous tag team also teased an in-ring return for WrestleMania. On that note, let's take a look at the latest WWE Rumor Roundup:
---
#5 Brock Lesnar's WWE status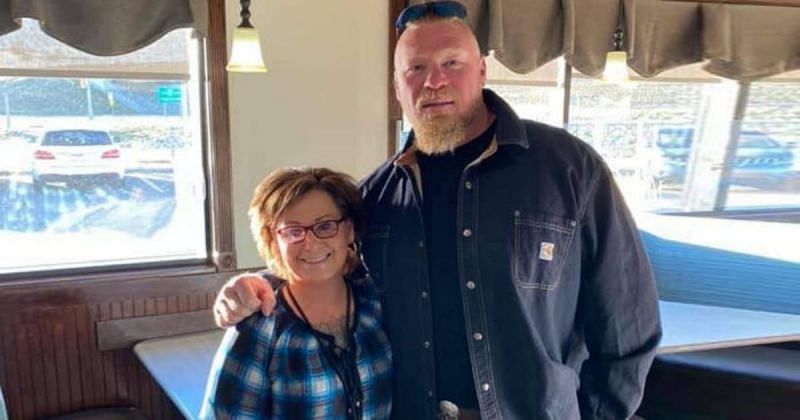 Brock Lesnar has been spotted only twice since he dropped the WWE Championship to Drew McIntyre at WrestleMania 36. Both occasions happened outside WWE, and the Beast Incarnate was seen sporting a rugged new look.
It's only evident that we talk about Brock Lesnar as we prepare to enter the WrestleMania season.
Will The Beast Incarnate show up at Royal Rumble or on the road to WrestleMania 37?
Dave Meltzer revealed during the latest Wrestling Observer Radio that Brock Lesnar is yet to re-sign with WWE. The former WWE Champion's contract expired following WrestleMania 36, and he has been a free agent ever since.
While anything is possible, Meltzer stated that there are currently no plans for Brock Lesnar to be at Royal Rumble. The plans can change instantly in WWE, but no backstage updates from a creative standpoint have been reported yet.
Lesnar is still expected to sign a new WWE contract when the time is right, and that would only happen when Vince McMahon comes up with a storyline to reintroduce the Beast Incarnate on WWE TV.
Would you like to see Brock Lesnar return on the road to
#4 AJ Styles wants Paul Heyman out of his job in WWE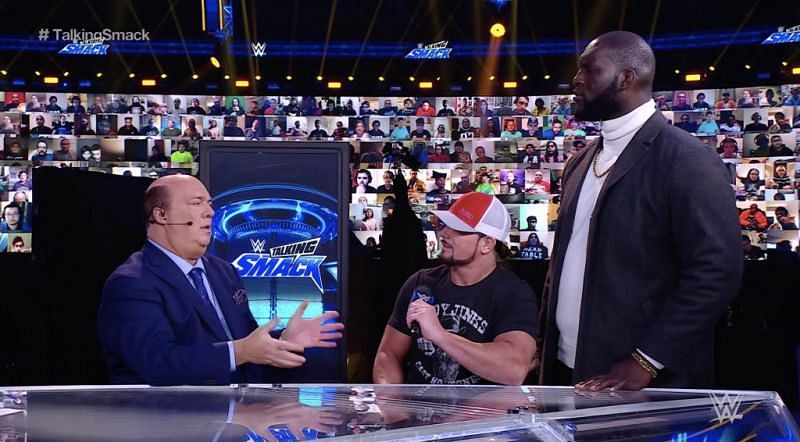 The heat between AJ Styles and Paul Heyman in the WWE is as real as it gets, and if you still have doubts, then you can go back and check The Phenomenal One's past comments about Heyman.
AJ Styles had called Paul Heyman a 'bold-faced liar.' He also blamed the former Executive Director of RAW for Karl Anderson and Luke Gallows' WWE releases.
AJ Styles moved to SmackDown to stay away from Heyman, but the two recently came face-to-face on an episode of Talking Smack. Styles blurred the fine lines between reality and kayfabe by taking a big shot at Heyman.
Styles bluntly stated that he would love to see Heyman out of his job. The former WWE Champion put forth a scenario wherein he wins the Royal Rumble and challenges Roman Reigns at WrestleMania.
Styles believed that Heyman would lose his job if Styles wins at 'Mania, and the mere thought of it was music to the Phenomenal One's years.
"Let's just say I choose to go after the Universal Championship, and I beat Roman Reigns at WrestleMania, and he's no longer sitting at the head of the table. He's no longer the alpha. What that means, ultimately, is that you would be out of a job, and nothing would make me happier than to see you out of a job. What do you think, Omos? Yeah… that'd be great." H/t Danny Hart of SK Wrestling
AJ Styles will never shy away from taking a jab at Heyman, and the Talking Smack incident was a prime example.
#3 Fan files $500 Billion lawsuit against WWE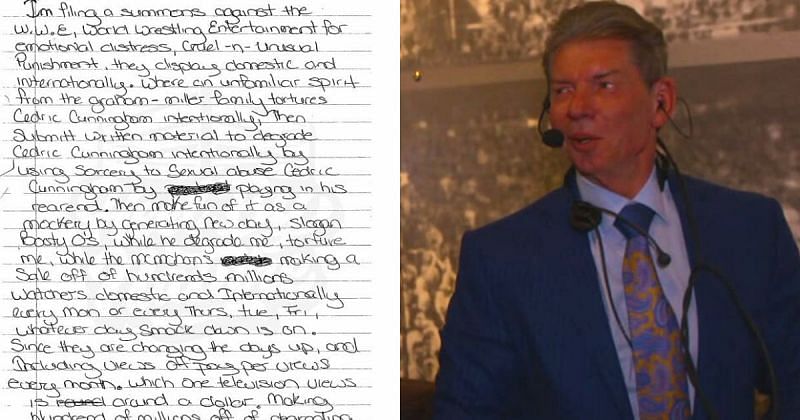 It's time to focus on one of the more ridiculous stories doing the rounds in the WWE.
As reported by HeelByNature, a fan named Cedric Cunningham filed a $500 Billion lawsuit against WWE on 25th January. The court documents revealed that the man accused WWE of causing him emotional distress, cruel and unusual punishment.
As crazy as it sounds, Cedric Cunningham noted in a hand-written complaint (which you can view above) that Vince McMahon's company apparently used 'sorcery' to degrade him while they created content for millions of viewers.
Florida's district judge, Raag Singhal, was quick to rightfully dismiss the lawsuit as going ahead with it would be a sheer waste of public funds. The case was closed, and any further notions were also denied.
Expenditure of public funds and the valuable time of the courts in order to prosecute an action that is totally without merit. Upon review of Plaintiff's Complaint, the Court has determined that the conclusory allegations of the Defendant's denial of Plaintiff's Eighth and Fourteenth Amendment rights and the Defendant's commission of a hate crime under 18 U.S.C. § 249 are unsupported by any factual allegations, do not satisfy the pleading requirements of Federal Rule of Civil Procedure 8(a), and fail to state a claim upon which relief can be granted. The Court therefore finds that this case is properly dismissed under 28 U.S.C. § 1915(e). Accordingly, it is hereby ORDERED AND ADJUDGED that Plaintiff's Complaint (DE [1]) is DISMISSED. The Clerk of Court is directed to CLOSE this case and DENY AS MOOT any pending motions. DONE AND ORDERED in Chambers, Fort Lauderdale, Florida, this 29th day of January 2021.
Cedric Cunningham is one unhappy man, and it's high time that he gives WWE a break.
#2 Update on Ronda Rousey's WWE status
Will Ronda Rousey return at WWE Royal Rumble to begin the build-up towards a WrestleMania 37 match? This question has been on every fan's mind over the past few weeks. The former RAW Women's Champion is also unsurprisingly one of the favorites to win the Women's Royal Rumble match.
Dave Meltzer has now provided an update on Ronda Rousey's WWE status on the Wrestling Observer Radio.
Meltzer noted that Ronda Rousey has been training recently, and there is a strong possibility of her WrestleMania return.
"With Ronda, Ronda was training. I know that. She will still be at WrestleMania. So with Ronda, here's the negative. Ronda can come into the Royal Rumble and be a surprise, but unless she's gonna win, I would say no way. Now, if she's going to win, yes, then do it. But she can still work WrestleMania and shoot an angle with somebody without winning the Royal Rumble."
Meltzer explained that the WWE fans would resent Rousey if she wins due to the part-timer tag. While the surprise return will get a good pop, a win would attract heat on Ronda Rousey.
Meltzer didn't see any logic in getting Ronda Rousey back for the Royal Rumble without advertising her in advance.
"It doesn't benefit anyone, and you're not making money off of her name because no one knows she's in the match anyway. So if she's going to do Mania this year, which I think is possible, unless she's winning the Rumble, I wouldn't even… Mania becomes the second match, not the first. You've given away the first without even advertising it, so in that sense, her being in the Rumble, they could do it for a surprise pop, but when I think about it that way, I think it makes no sense at all." H/t Pratyay Ghosh of SK Wrestling
The speculation suggests that Ronda Rousey could compete at WWE WrestleMania 37. However, who should she face?
Don't forget to check out Riju Dasgupta's exclusive interview with Natalya above, in which the Queen of Harts spoke about Ronda Rousey's return and why she disagreed with the former UFC Champion's controversial statements.
#1 The Bella Twins tease WWE WrestleMania return
It's been a while since Nikki and Brie Bella retired from active in-ring competition in the WWE. The Bella Twins currently have their hands full, as they are both mothers and have other successful projects outside professional wrestling.
However, the itch to wrestle again never truly goes away.
Guest Host Mario Lopez interviewed the Bella Twins on TheEllenShow, and Nikki Bella noted that she expects the tag team to be back in action someday.
Nikki Bella said that they never went after the WWE Women's Tag Team titles, which would be their objective when they return. Bella said that the fans could expect them to come back either at WrestleMania 2022 or 2023.
"Oh, definitely. I mean, recently, WWE made their huge announcement about WrestleMania for the next three years. So, when I heard about Dallas 2022, Hollywood 2023, I was like, I got chills, and I said, "Brie, we have never gone after the tag titles.' They were like, made for us. Like, there's another run in the Bella Twins. So, I'm calling maybe in Dallas, WrestleMania, or at some point, we're coming back."
Brie Bella added that she would love to wrestle in front of her kids, and that dream of hers could be fulfilled in the next couple of years.
Categories