Roman Reigns Reveals Who Receives The Best Spear In WWE
Roman Reigns and Goldberg are two of the WWE Superstars who use Spears as their finishing maneuvers. In fact, these two were supposed to feature in a Spear vs Spear fantasy warfare at WrestleMania 36. But the coronavirus pandemic got in the way and that match was canceled. Perhaps they might gather again for the match but right now they're in their separate paths.
While speaking to Ryan Satin, Roman Reigns discussed the Spear move. He always tried to keep some uniqueness in his spear to that of Goldberg who is often credited for the move. But Reigns rather threw a shade to the former WCW Champion mentioning how he's evolved the move unlike a stiff version of Goldberg.
"There's this big debate about the Spear, like 'oh you don't do it like Goldberg'… that's because I'm a really good performer. You know what I mean? I do it like I do it. So, I do a launch for that aesthetic. I'm not trying to like on the gridiron. If I wanted to do that I could.
If I want to push someone's organs through their spine, I can do that, you know. It's no problem, easy. 6-foot-3, 265, I'd run through your ass, but I try to launch it and make it look as Superman-esk as possible. Like I'm flying, darting through the air."
Roman Reigns on the best spear of his career
Roman Reigns has been breaking people in two halves with the Spear move, over the years. He could hit it in the blink of an eye, or while his opponent is in mid-air to make it look even more spectacular. But he also mentioned how the receiver is the one who can make it even better. This is the opinion from the Head of the Table.
While speaking to Ryan Satin, Roman Reigns received the question of who takes the best Spear. He was also asked, "what is the best spear you've ever given." The Tribal Chief said that the spears where he got a running charge at his target have been a good one. He picked Rusev to digest it showing an effect at SummerSlam 2016.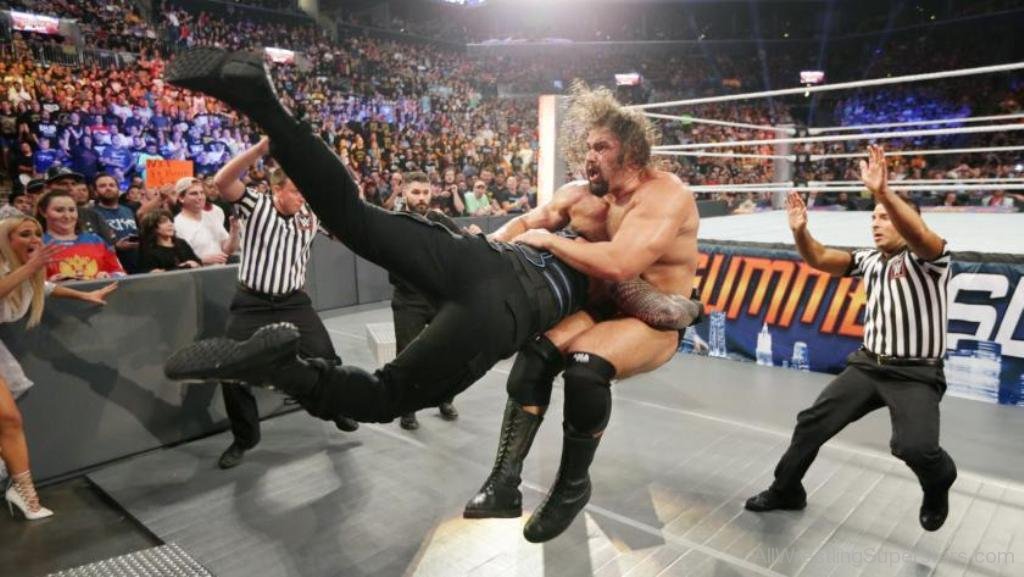 But then he picked AJ Styles for taking the spear better than anyone. The Phenomenal One can produce great in-ring chemistry with whomever he works with and the case is the same to sell any move like a pro. It's great to see that he can "cop a flip" while digesting a spear.
"AJ, I'm pretty sure he copped a flip. Murphy, he copped the flip, Seth [Rollins], all of those guys can cop the flip. To do it you kinda have to hit them and ricochet onto them and let them do kinda a barrel roll to allow them to get that flip, I didn't know AJ was gonna do that so when I hit him I was still wrapped around him and I stopped him from rotating and he completely landed on his neck.
It was not my fault, I did not know this, but it looked. I know he could have easily copped that flip, but we were not on the same page. Luckily, the match was over. All of those guys who cop that flip, and a lot of our guys are great athletes, it's just a choice if they want to do it or not. Maybe we'll make Kevin Owens do it," Roman Reigns said.
A ton of Superstars had the misfortune to receive the spear from Roman Reigns, but AJ Styles had the best way to sell it. Back in the 2020 Royal Rumble, AJ tried to sell returning Edge's Spear in a big way and in the process even hurt himself while doing the cop flip.
Categories