Top 5 reasons why Roman Reigns defeated Kevin Owens three times to retain the Universal Championship
At WWE Royal Rumble, Roman Reigns defeated Kevin Owens in a brutal Last Man Standing Match to retain his Universal Championship. From being handcuffed to the backstage equipment to running over his opponent with a golf cart, Reigns went through a chaotic journey en route to victory.
On the other hand, Owens put his body on the line again and again, but he still failed to earn the win. Though this match had everything fans could wish for from a third title match, it marked yet another loss for "The Prizefighter."
This article will examine the possible reasons why WWE allowed Roman Reigns to beat Kevin Owens three times for the Universal championship. Plus, it will explore how the result will affect Reigns and Owens moving forward.
---
#1 Roman Reigns needed to be established as the biggest heel in WWE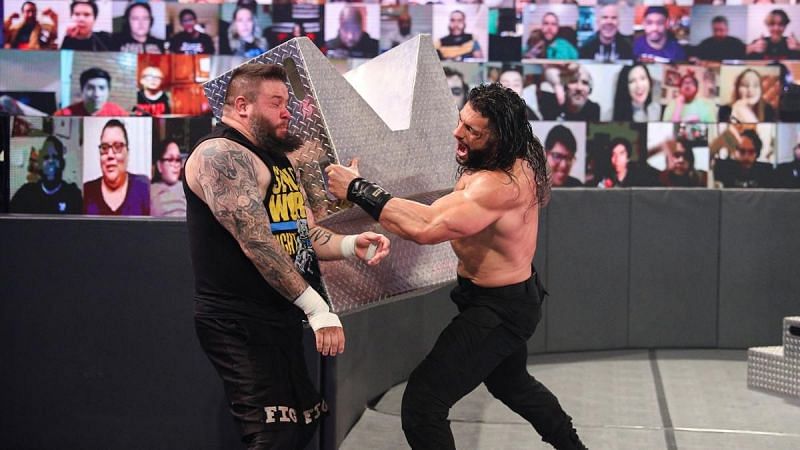 Ever since Roman Reigns turned heel, he has feuded with the likes of Braun Strowman, "The Fiend" Bray Wyatt, and even his closest ally, Jey Uso. But none of his opponents quite fought him as hard as Kevin Owens did. The challenger was brutal in everything that he directed towards the Universal Champion.
"KO" was the first Superstar to call out Reigns for his hypocrisy in the way he treated Uso. In fact, it was Owens' ruthless honesty that kickstarted this entire rivalry. He pushed Reigns to improve, and in the process, these Superstars delivered a memorable feud over the course of the last two months.
That said, the creative team has gone above and beyond to establish Reigns as the biggest threat in the entire WWE since SummerSlam 2020. That outcome was always the end goal. It was pretty evident when WWE built up Drew McIntyre as the company's biggest babyface during the Survivor Series feud between the two champions.
The creative team seemingly wanted to match Reigns against someone who could absorb three major losses. Owens fit the bill, as he is a Superstar who has been firmly established throughout his WWE career.
As a result, Owens was the perfect choice. His extended feud with Reigns kept the fans engaged. "The Prizefighter" deserves credit for delivering three great matches for the title. Any damage to Owens' standing on SmackDown could be restored the second he turns heel if WWE decides to pursue that path. For his part, Reigns ended up looking like a legitimate bad guy who always gets his way in the end.
#2 Three wins allow Roman Reigns to move on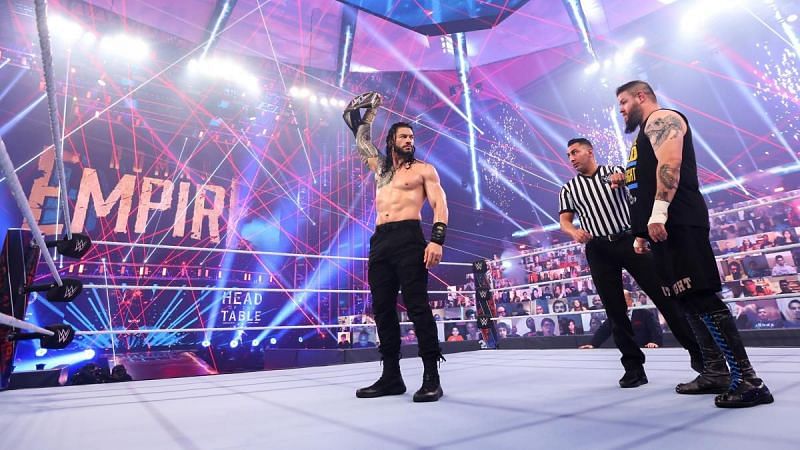 While the rivalry between Roman Reigns and Kevin Owens certainly had its high points, it was important for the creative to end it at the right time. Three consecutive matches with the same result was the best way for WWE to end this feud. Reigns previously stated that Sunday's match was Kevin Owens' last chance. By defeating Owens yet again, Reigns should be able to move on.
This storyline featured a brutal TLC Match, a memorable Steel Cage Match, and an eventful Last Man Standing Match. Extending this rivalry beyond the Royal Rumble would have dragged the story out too much. Reigns and Owens did enough to keep fans excited for the three different encounters, but it was time to wrap this program up.
Roman Reigns and Owens are talented performers, but they might have struggled to outperform themselves in a narration that has run its course. Three big victories for "The Tribal Chief" have already served the purpose of cementing Reigns' standing. Now, WWE can close this chapter on the blue brand without compromising either Superstar's current run.
#3 Roman Reigns can now face new challengers on WWE SmackDown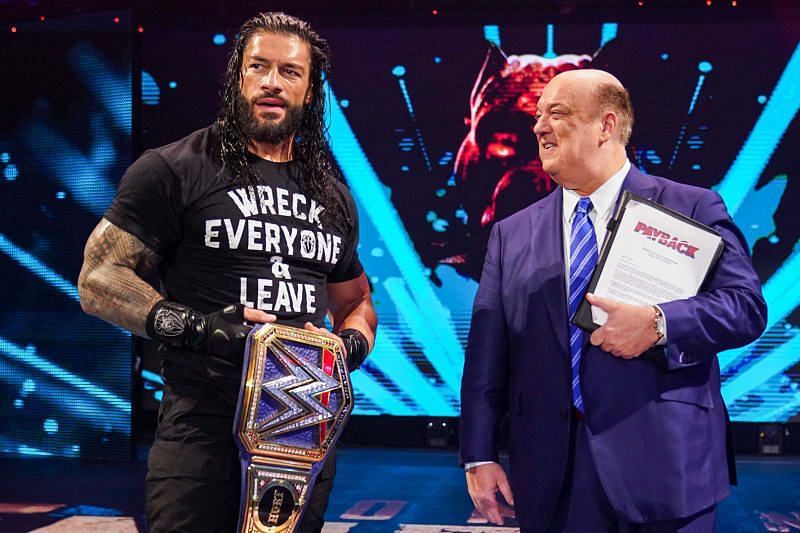 Roman Reigns has had a good run with the Universal Championship. He deserves to walk into this year's WrestleMania with that title resting on his shoulder. Until then, WWE will host two more pay-per-views. So "The Head of the Table" can engage in another good feud before he finds his WrestleMania challenger.
Several Superstars on SmackDown can eventually enter the Universal Championship picture and pose a credible threat to Reigns' title run. The best option out of all the names is might be Big E, the reigning WWE Intercontinental Champion. He has been working hard to put on an enjoyable singles run. As a result, he should be given an opportunity to go toe-to-toe with "The Tribal Chief."
WWE has teased an alliance between Roman Reigns and Apollo Crews. The latter is eyeing the Big E's title, and if Reigns helps him, it could set the stage for a feud between the two Superstars. Apart from the New Day member, WWE can also look at Daniel Bryan, Cesaro and even Seth Rollins as potential challengers for Roman Reigns.
#4 Roman Reigns' one vulnerability remains exposed
This feud between Roman Reigns and Kevin Owens worked wonders in showcasing as the champion as a dominant force. But it also played its part in displaying his vulnerability when he's left alone. He won the first two matches with Jey Uso's help, and Paul Heyman made all the difference at WWE Royal Rumble.
The interaction between Owens and Roman Reigns on the go-home show of SmackDown before Royal Rumble was more than just a "War of Words." Owens made Reigns visibly uncomfortable when he called him an insecure bully. The subtle details of his character and his recklessness expose a weakness that a future challenger could exploit.
WWE has ensured that this side of Reigns comes across as an Achilles' heel rather than a specific weakness. Kevin Owens could revisit this feud somewhere down the line because he could claim that that Roman Reigns never earned a clean victory over him. The storytelling in this feud leaves the company with several potential directions as the road to WrestleMania continues.
#5 Three straight losses to Roman Reigns could make Kevin Owens snap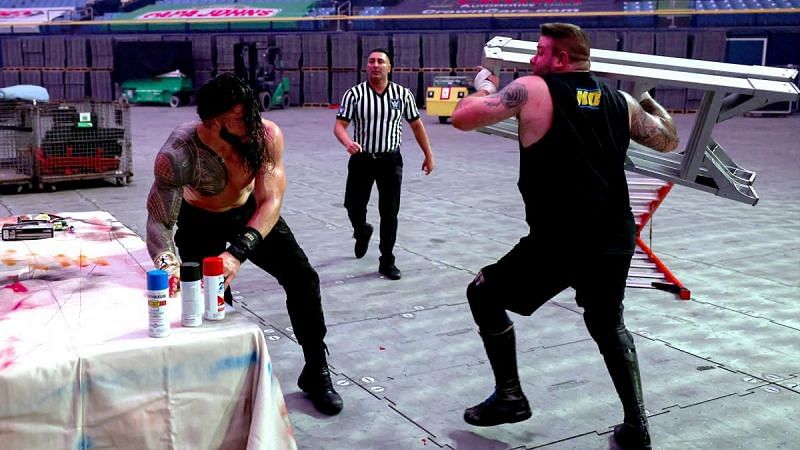 Roman Reigns is an excellent heel, and no one can take that away from him. On the other hand, "KO" has nailed his role as a babyface who is fighting against a bully on the blue brand. Still, as impressive as he has been, one can't deny that Owens is simply unmatchable as a heel.
Every time Owens turns heel, he winds up getting over with the crowd. He has always been a fantastic villain. He has been a great heel recently, but many fans would welcome a heel turn. His consecutive losses to Reigns could be one of the main factors that will eventually convince Owens to shift to the dark side on SmackDown.
Kevin Owens is undoubtedly one of the best talkers in WWE today. He takes his game to another level when he is playing a bad guy. If and when he turns heel again, it will only be a matter of time until he's a world title contender again. Regardless, it will be interesting to see the immediate and long-term impact of this feud on both Roman Reigns and Kevin Owens.
Categories