WWE SmackDown: 2 Superstars who flopped and 3 who impressed – Cesaro busted open, big mistake with Roman Reigns (Feb 5th, 2021)
This week's episode of WWE SmackDown had its fair share of bizarre moments. While the show allowed some of its deserving Superstars to shine, it also caused big blunders involving other top names. Between the end of few feuds and the continuations of some, the Blue brand seemed torn between its essential storylines.
In this article, we will take a look at Superstars who impressed us on WWE SmackDown this week and those who didn't. So, without further ado, let's begin.
---
#1 Impressed on WWE SmackDown: Cesaro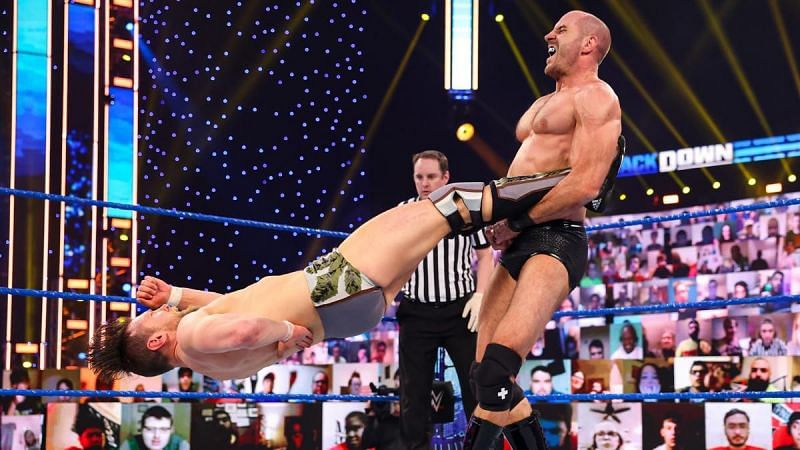 This week on WWE SmackDown, Cesaro locked horns with Daniel Bryan in a brutal singles match. Last month, both these Superstars had delivered a memorable in-ring encounter, and this week, they managed to follow it up with an intense battle. The creative also used this match to confirm Cesaro's face turn on the Blue brand.
The match between Cesaro and Bryan was very well-balanced as both Superstars relied on their respective strengths. They first started out with engaging in an extremely technical to-and-fro that led to fantastic counters. Following that, their match gradually started to pick pace as it progressed on WWE SmackDown.
Soon, Bryan used a few back-to-back blows to gain complete control of the match. Cesaro took a lot of punishment before he managed to overcome the challenge posed by his opponent. We saw some of the exciting maneuvers unfold before this match on WWE SmackDown witnessed an unfortunate spot.
During the match, Bryan accidentally clipped Cesaro that caused his head to bleed from the side. However, he refused to let that stop him from delivering his best inside the ring. Eventually, Cesaro forced Bryan to tap out and pick a huge win on WWE SmackDown. Following the match, he offered to bump his fist, and Bryan obliged.
We also saw Shinsuke Nakamura watching this match backstage as he was concerned about Cesaro. It appears that the latter is finally going to get a push on WWE SmackDown and it is something that he has deserved for a very long time. We hope to see the creative make use of this momentum and allow Cesrao to eventually challenge for the gold.
#1 Flopped on WWE SmackDown: Roman Reigns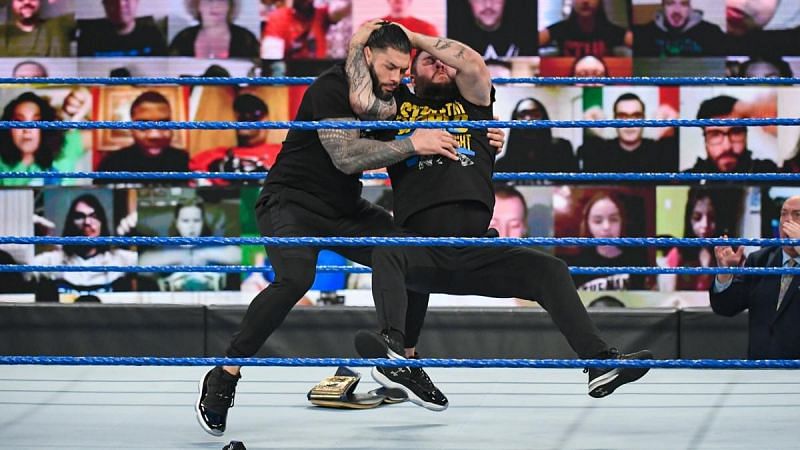 Before anything else is said about this entry on our list, let us establish that the WWE SmackDown creative made a huge mistake on the show tonight. This is the first time Roman Reigns looked less than interesting on the Blue brand ever since he turned heel and it's the writing that should be blamed for this one.
He opened the show and demanded Edge to convey his decision during the main event of WWE SmackDown. It started well as fans were already anticipating a plausible Spear vs. Spear match at WrestleMania. In the closing moments of the show, we saw Edge and Roman Reigns come face to face, and we were hoping that at least one WrestleMania title bout will be confirmed on the show.
Edge started by calling out Roman Reigns' backup that led to The Tribal Chief sending off Jey Uso and Paul Heyman. Soon after that, Kevin Owens came from behind and delivered a stunner that left Roman Reigns inside the ring. Now, we thought that rivalry has ended with their brutal match at Royal Rumble, but that did not appear to be the case on WWE SmackDown this week. Also, why would Roman Reigns ask Jey Uso to leave when he is literally his biggest back-up on the show. Since when did he start paying heed to people (Edge) questioning his methods?
Kevin Owens has already challenged Roman Reigns for the Universal Championship three times. Reigns has retained that title three times, and now the fans would like to see something different on WWE SmackDown. It is true that Reigns is yet to pick a clean victory over Owens, but we have seen them involved in an extended feud. It would be better for the creative to revisit this rivalry in the coming months instead of dragging it until the fans lose their interest.
Categories