Kurt Angle: WWE Hall Of Famer Avoiding Another Neck Surgery
Kurt Angle is one of the unfortunate names in the history of professional wrestling who had to deal with neck concussions. At one point, it caused his WWE career. But eventually, he was able to hang up his boots after competing at the Grandest Stage of Wrestlemania. But the best accolade of his career is when he won an Olympic Gold Medal with a broken freaking neck. More problems with his neck are needed to be fixed, it seems.
The Hall of Famer apparently needs another neck surgery right now, but he's trying to avoid it, as much as possible. During The Kurt Angle Show, the host revealed that he opted for some minimal surgery on his neck earlier and continue wrestling with it while some of the big names like Edge and Rhyno overcame the issues, permanently.
#SpeakingOut: WWE Legend Kurt Angle Accused Of Sexual Harassment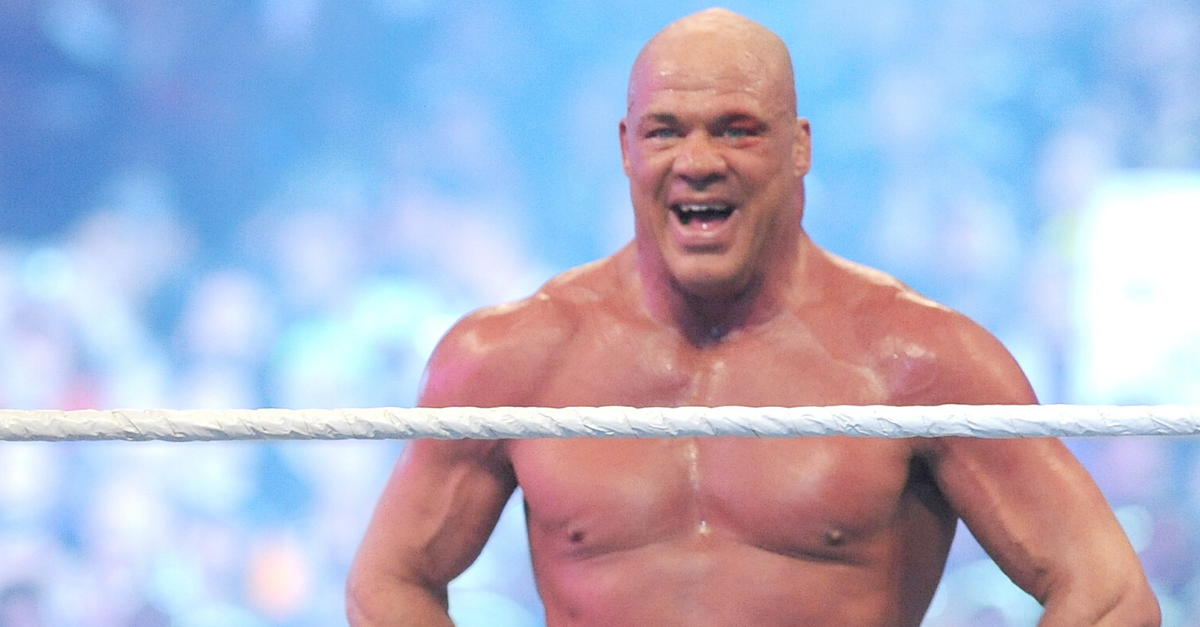 After going through his well-documented neck issues in the past, Kurt Angle revealed that someday he'll have to go for "a big surgery."
"They were repair surgeries just to fix it up. Those are all temporary surgeries. Someday I'm going to have to have a big surgery. I'm trying to hold off as long as I can. When I do, I will be out of commission for a year and I would have to have the big halo on my neck for three months or four months. Definitely not during the pandemic I wasn't going to do anything, especially with my kids being at home and I have to take care of them and watch them and oversee everything. For me to be laid up in a bed for four months or six months is not going to work." (Quotes courtesy Wrestling News)
Kurt Angle Is Taking Steroids, As Per Former WWE Superstar
Kurt Angle is in good shape right now
The good thing is that Kurt Angle is in fantastic shape right now who is working hard to maintain his neck strength. Plus, it keeps him healthy and in-ring ready despite retiring from WWE competition. One day he will have to get that neck surgery done. We can only hope that day comes after a long time from now.
Kurt Angle was under contract with the WWE, even last year at this point. He was working as a backstage producer on the main roster after hanging up the boots. WWE has groomed him up to be an official, down the road until the COVID-19 pandemic hit. As per the budget-cutting strategy of the company, several talents and producers were trimmed. Unfortunately, the former world champion was one of them who was furloughed.
Afterward, WWE wanted Kurt Angle to be present on Smackdown to work as Riddle's manager. However, he denied that opportunity to be present on TV as he wanted to focus on his personal business ventures. The final match for the veteran athlete took place at Wrestlemania 35 in 2019 where he competed against King Baron Corbin. He was handed a loss by the heel superstar which was a major surprise.
Categories