Brock Lesnar Praises Emerging WWE Smackdown Superstar
Brock Lesnar is not present in the WWE context ever since losing the WWE Championship to Drew McIntyre on the night I of WrestleMania 36 back in 2020 April. It was reported previously that the WWE contract of the Beast Incarnate was had expired following that event and it wasn't renewed. Plus, WWE doesn't have the imagery as well as merchandise selling rights for him.
But Brock Lesnar is definitely not out of the conversation as another edition of WrestleMania is approaching closer. The Next Big Thing has also arrived in the WWE which always keeps the former WWE Champion under discussion. Plus, an emerging superstar is claiming how the biggest box office attraction was impressed by his athleticism.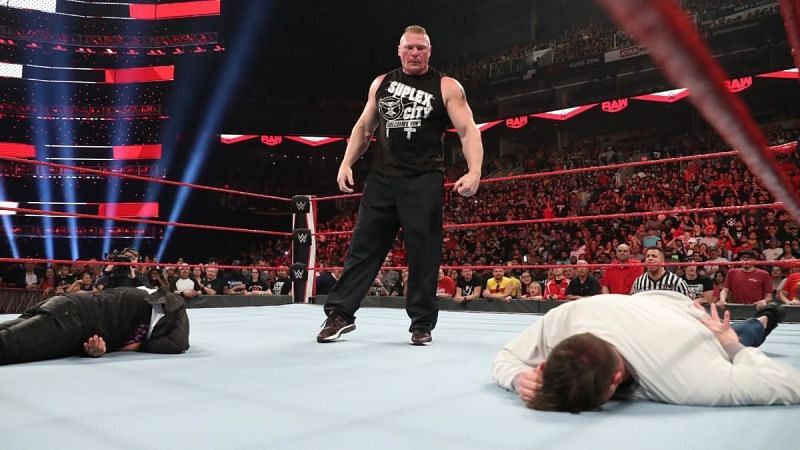 At Survivor Series 2019, Brock Lesnar defended the WWE Championship against Rey Mysterio in a singles match. During the match, Rey didn't wrestle alone as his son Dominik Mysterio, got involved in the match and had a physical interaction with Lesnar. At that point, Dominik didn't sign a WWE contract, yet. So, he wasn't an official WWE wrestler.
During a recent interview on Start Today podcast, Dominik (who is now on the SmackDown roster) revealed that The Beast Incarnate was impressed with his skill-set in the ring. Apparently, he was able to deliver something more than Brock Lesnar expected from him during the match. The youngster was more than flattered to get some praises from the behemoth persona, obviously.
Luke Lesnar: All You Need To Know About Former WWE Champion Brock Lesnar's Son
Brock Lesnar praises Dominik Mysterio
Here's what Dominik said about Brock Lesnar praising him,
"After I got my a$$ beat, I went to say thank you to everyone. I remember Brock telling me that he was surprised because I knew more than he thought I was going to. With how I placed myself and things I would do to feed into things.
I don't think they were expecting me to know what I was doing. That was really cool right off the bat."
Brock Lesnar had never crossed path with Dominik, afterward. But who knows what happens in the future especially with the never say never phrase intact in the professional wrestling circuit. While Lesnar is expected to re-sign with the WWE in the near future, Dominik is considered to be one of the brightest superstars of the current roster.
Categories