WWE Legend Batista Denies Shooting Buddy Movie With John Cena
Batista has become a bonafide movie star over the past few years. It's safe to say nobody in the WWE other than The Rock has made bigger splashes than him in Hollywood. But being a pro, he isn't looking forward to sharing the big screen with fellow WWE Superstar and also a movie star, John Cena, especially if it becomes a buddy film.
The Guardians of the Galaxy star was asked about any whatsoever collaboration with the sixteen-time WWE Champion but he shot down that idea. Batista made it clear while responding to a tweet from a fan, who hoped to see him and Cena star together. Interestingly, the fan requested them to be a part of a "Buddy Movie".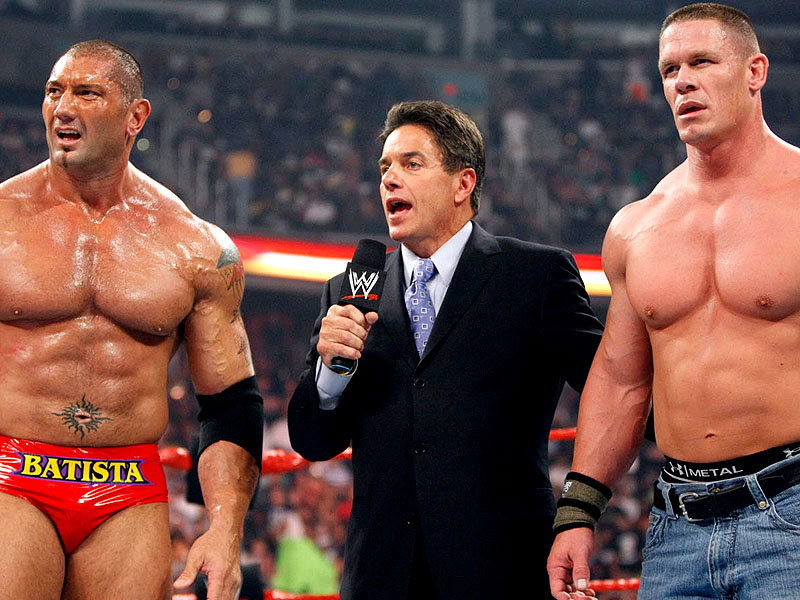 This is a genre where two male or female stars typically get together for an adventure or a road trip and then go through a roller coaster ride, together. He probably wished to see The Animal and the Cenation Leader portraying the two buddy's roles just because they belong to the WWE. But Batista must have disappointed him saying, "You and you both!" in response to the fan.
Booker T Denies Return Rumors To WWE In-Ring Competition In 2021
Batista and John Cena are getting mainstream attention
Batista and Cena are garnering major mainstream attention, recently as they both appeared in ads during this past Sunday's SuperBowl LV. While the former Evolution member joined Tracy Morgan and Liza Koshy in a commercial for Rocket Mortgage, the man with Hustle, Loyalty, and Respect appeared in the Fast and Furious 9 trailer and also a Mountain Dew commercial.
Edge On Wrestling Randy Orton At Wrestlemania 36 Without Any WWE Fans
"The Animal" Batista was originally announced to be a part of the 2020 WWE Hall of Fame class but will be inducted this year instead although the postponed ceremony wasn't confirmed, yet. He will be joined by JBL, The Bella Twins, Jushin Thunder Liger, The British Bulldog, and nWo [Hulk Hogan, Sean Waltman, Scott Hall, Kevin Nash]. Reports do suggest that there's been talk of holding the ceremony as a virtual event.
Batista deserves that spot on the Hall of Fame for his illustrious career in the WWE and hopefully, he will get the honor, after a delay of one year. As for John Cena, he's reportedly locked in to appear at WrestleMania 37. But there's no confirmed update on her future appearances on Raw or SmackDown to build a potential match.
Categories