Rey Mysterio is one of the most popular Superstars in WWE
Christian made a shocking return at the 2021 edition of the Men's Royal Rumble match on January 31st. While many thought that his in-ring career was over, due to multiple concussions, he proved everyone wrong and gave hope for more to come. It was the first time in almost seven years that he stepped foot inside a WWE ring.
Since that appearance, the fans have been wondering whether Christian will be seen in more competition especially considering that the WrestleMania season is approaching closer. It was earlier reported that the former world champion could be back in competition on a part-time basis. But to date, nothing as sort has happened on TV to indicate the same. Rather, he was involved in some online exchange with Intercontinental Champion Big E.
Edge Says He'd Leave WWE When He Fails To Tell Great Stories
While speaking on WWE's The Bump, Christian said that he is unsure of what his career could offer him, next. But interestingly, he noted that he would like to team up with Edge again and then have one more run with the infamous Tag Team who made TLC matches infamous.
"No decisions have been made and I'm not sure at this point. It's still to be determined. We'll just take it day to day at this point, and like I said, if that ends up being my last match, then I did it on my terms and that's what I wanted….Of course, if I do step back in the ring again in any capacity, I would love to team with Edge again….There are some real dream matches out there."
Christian was secretly cleared for Rumble 2021
Meanwhile, Christian has not been seen since his Royal Rumble appearance. It'll be interesting to see what could be next in store for the former world champion. According to F4WOnline, he was secretly cleared for a return to action as he visited WWE medical facility available in Pittsburgh, the week before Royal Rumble. It was also noted how he's expected to wrestle more often now.
"Christian was secretly cleared last week. He is expected to wrestle more often. As far as how much is uncertain but that was not a one-time-and gone thing."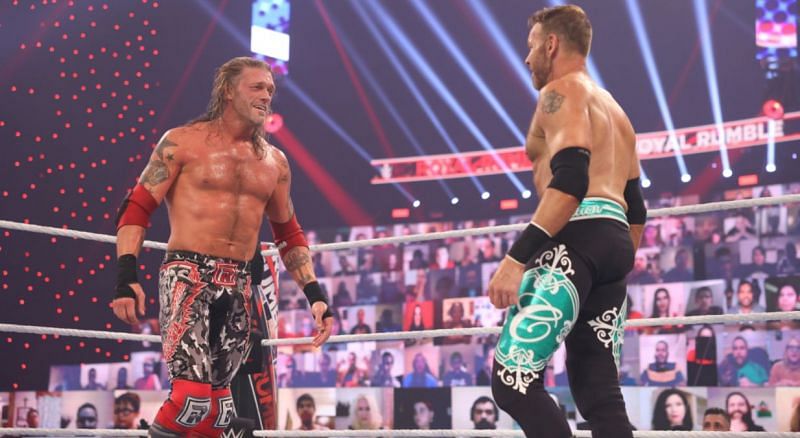 In a backstage interview following the Royal Rumble match, Christian stated that it was a surreal moment to return to the ring. When he was hit for the first time in the match, it felt like he's home. The Captain Charisma also said that he didn't tell anyone backstage that he was going to be a surprise entrant in that Rumble match as the number 24 seed. His return was received well and we can only hope that WWE does have a follow-up.
Categories