WWE Rumor Roundup – Canceled plans for a major CM Punk match, Superstar's wife re-signed after 10 years, Popular gimmick confirmed to return – 14th February 2021
We're inching closer towards the Elimination Chamber, and the match card for the pay-per-view is slowly taking shape on WWE TV. Roman Reigns will not be defending the Universal Championship inside the Elimination Chamber but in a singles match, and we now know the reason behind WWE's move.
WWE has also reportedly signed a seasoned IMPACT Wrestling star, who is also interestingly the wife of a current WWE RAW Superstar.
A popular former WWE personality also revealed a significant issue he encountered while working with Christian.
CM Punk commented on the nixed plans for his match against Chris Benoit while answering several questions during a Q&A session. Today's lineup also has a story about the return of Finn Balor's Demon King persona.
---
#5. CM Punk comments on the nixed Chris Benoit match in WWE and more
CM Punk answered several fan questions during his latest Q&A session on Twitter. The former WWE Superstar was asked about the plans for the nixed match against Chris Benoit.
CM Punk was scheduled to face Chris Benoit at the Vengeance: Night of Champions pay-per-view for the vacant ECW Championship in 2007. As you might know, the original plan was for Chris Benoit to win the ECW title at the show. Unfortunately, the double-murder and suicide happened that week.
Johnny Nitro, aka John Morrison, would eventually beat CM Punk on the show to win the ECW title.
According to CM Punk, all he knew was that they had talked about having a very physical match. CM Punk wrote:
"No idea. All we talked about was beating the piss out of each other."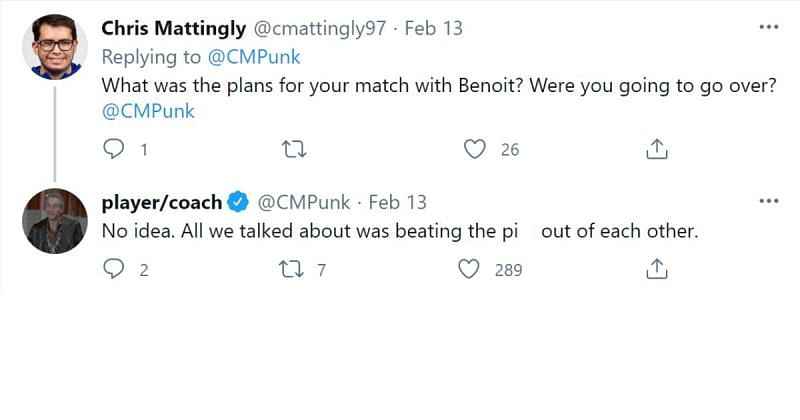 Punk also reacted to Edge's Royal Rumble victory and said he was pleased to see The Rated-R Superstar embark on another in-ring run. Punk cheekily added that he was jealous of Edge's abs.
"Super stoked for him to get a second act. And jealous of his abs."
CM Punk also claimed that he would have squashed Stone Cold Steve Austin in a match, and he even received a reaction from the Texas Rattlesnake. CM Punk surely does know how to have newsworthy Q&A sessions.
4. Taya Valkyrie reportedly signs with WWE
PWInsider reports that Taya Valkyrie has signed with WWE. Valkyrie will join NXT, and she is expected to be revealed as a WWE Superstar during the next class of signings.
Taya Valkyrie began wrestling in 2010 and was trained by Lance Storm. Valkyrie, who is married to RAW's John Morrison, was briefly signed to a developmental WWE contract in 2011. She never officially made her WWE debut and would later turn to the independent circuit.
Valkyrie would make a name for herself in Mexico while wrestling for AAA, where she is the reigning AAA Reina de Reinas Champion. Valkyrie, however, is also remembered for her work in IMPACT Wrestling.
Taya Valkyrie signed with IMPACT in 2017, and she rose to become one of the most prominent faces in the Knockouts division. Valkyrie has the longest Knockouts Championship reign at 377 days.
Taya Valkyrie and John Morrison were an on-screen couple in Lucha Underground and IMPACT Wrestling. While Valkyrie will be featured on NXT, there is a possibility that she gets moved up to the main roster to reunite with her husband.
Would you like to see Taya Valkyrie join Morrison and Miz on RAW?
Categories