WrestleMania 37: 5 reasons why Daniel Bryan should be added to Roman Reigns vs. Edge for the Universal title
WWE WrestleMania 37 is set to witness the much-awaited Spear vs. Spear match between Roman Reigns and Edge for the Universal Championship. Ahead of that title match, Reigns defended his title successfully against Daniel Bryan at Fastlane 2021 on Sunday. This was the second championship match between the two superstars, and they delivered beyond expectations.
Bryan was at his absolute best inside the ring and fought until the final moments of the match. Edge was also present as the special guest enforcer. During the match, Jey Uso attacked both Edge and Bryan, but the latter quickly retaliated. The Rated-R Superstar then suddenly snapped and decided to use a steel chair to assault Bryan and Reigns. Roman Reigns eventually retained his championship at the pay-per-view and cleared the way for his match against Edge at WrestleMania.
However, Bryan's performance in this match is too good to ignore. Several fans believe that could lead to WWE booking a triple-threat match for the Universal Championship at WrestleMania. In this article, we will take a look at five reasons why Daniel Bryan should be added to Roman Reigns vs. Edge at the upcoming pay-per-view.
---
#1 Monumental WrestleMania match for Roman Reigns' run as a heel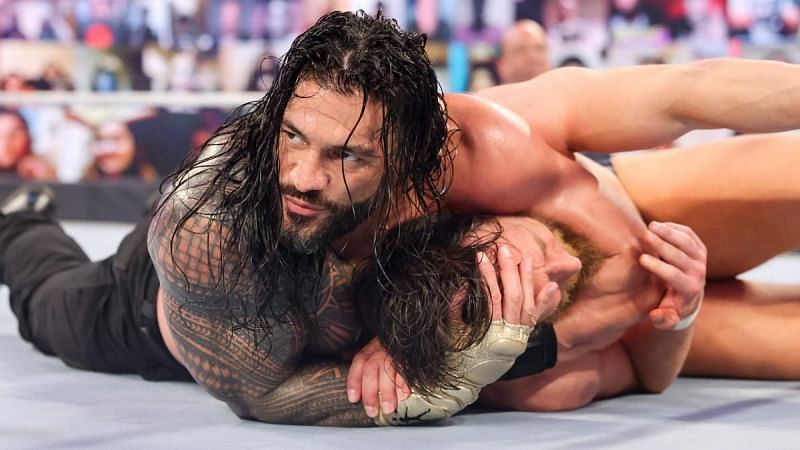 Roman Reigns has featured in more WrestleMania main events than most of the current superstars in WWE. However, this time he will arrive in the event as a heel and likely get cheered for the first time at The Grandest Stage of Them All. He managed to win over his critics ever since he embraced his villainous side and has been nothing short of brilliant as a big bad bully on SmackDown.
Although Edge is widely regarded as a babyface, his character's recent shift has teased a possible heel turn. We know that the creative won't let two bad guys battle it out for the title at WrestleMania. Thus, they might end up adding Daniel Bryan to the match. Adding a top babyface will only help make Reigns a much more brutal heel by comparison.
Moreover, Reigns will then have to win crucial advantages over both Bryan and Edge. He has often managed to bully all his challengers. However, Reigns has done that with ease because none of them had reliable alliances to fall back upon. Things will be much more difficult for Reigns, the common enemy for both Bryan and Edge, until WrestleMania.
The Tribal Chief will be forced to step up his game, and it will take his current run as a heel on to next level. Having him retain his Universal Championship at WrestleMania will also help WWE in fetching nuclear heat towards its top heel. The upcoming edition of WrestleMania could prove to be one of the most memorable nights of Roman Reigns' WWE career.
#2 Iconic title match at WrestleMania featuring three WWE Superstars who made epic comebacks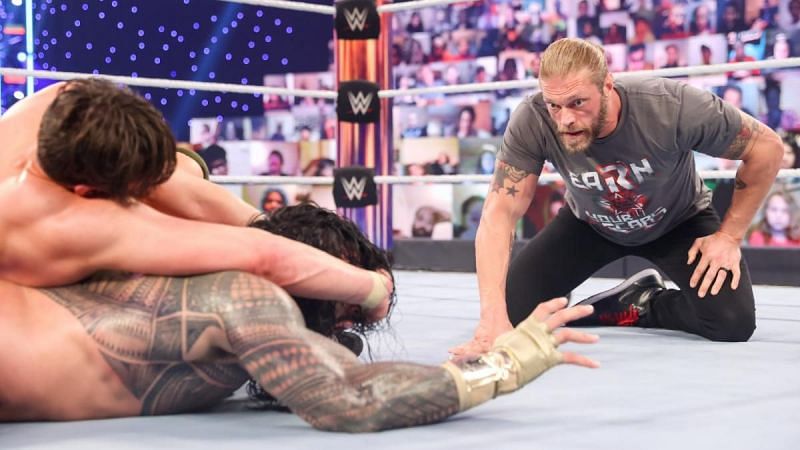 There is so much more to WrestleMania matches than just the events that transpire inside the ring. More often than not, it is the backstory leading up to a battle that does a major chunk of the job in creating something memorable. The creative has that opportunity as they can book three massive WWE Superstars with brilliant comeback stories in a triple-threat title match.
Over a decade ago, Edge was forced to retire from the squared circle after sustaining a serious neck injury. Daniel Bryan had to walk away from the ring owing to multiple concussions. Roman Reigns had to relinquish his title before he battled against leukemia. Following the biggest fights of their respective lives, these three Superstars found a way back to the ring and can now compete for the gold at WrestleMania.
They are all heroes in their respective stories, and a title match featuring them will undoubtedly account for a must-watch booking. Bryan, Edge, and Reigns bring a lot of star power to WrestleMania's main event, and that is exactly what the Universal Championship needs in WWE. Each of them will fight through blood and sweat to become the world champion once again.
#3 Eases the burden of WrestleMania main event match on Edge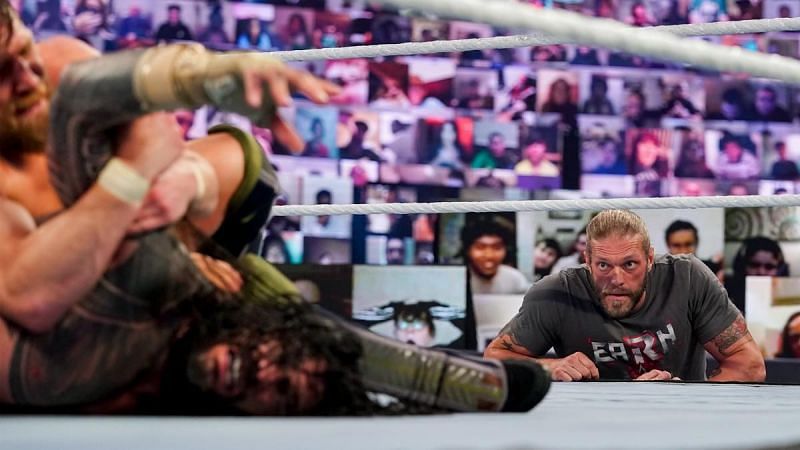 Years ago, Edge's appearance on WrestleMania felt like an impossible dream. Who would have imagined that not only will he make a miraculous comeback, but also he will beat 29 other WWE Superstars to win a title opportunity at WrestleMania? The Rated-R Superstar then picked Roman Reigns to set up a dream match at the upcoming pay-per-view.
While Edge's efforts inside the squared circle on RAW and previous pay-per-views are admirable, it is almost unfair to expect him to perform like he is in his prime. He does more than enough to deliver his best and even refused to work sporadically like other legends. But smaller segments on weekly shows are different from WrestleMania.
Adding Daniel Bryan to the match between Edge and Roman Reigns will help ease the burden on The Rated-R Superstar. Although Edge will still take a lot of punishment during the match, it will reduce the risks he would have otherwise been forced to take inside the ring. Instead, he will get enough rest between attacks to prepare himself well, and it will never compromise with the quality of the match. His actions at Fastlane will allow the creative to book him as an opportunistic person during the match.
Categories