5 WWE Superstars who earned John Cena's respect
As one of the biggest names in the wrestling industry, John Cena has worked hard to give it his all in WWE. Cena has been one of the biggest names in WWE for almost two decades. During that time, he's won no less than 16 world championships and enjoyed some of the most memorable rivalries in all of sports entertainment.
Over the past few years, Cena has cut down his time in the ring to focus on other projects related to Hollywood. However, he has remained connected to what WWE has to offer and has frequently commented on the company's product and its superstars.
The Leader of the Cenation is rumored to make a return to the ring sometime later this year, when the company welcomes back fans into the arena. This could lead to a new rivalry for the veteran who can help put more superstars over before calling it a day.
The 16-time World Champion has showered several of his colleagues with praise over the past few years and shown them respect.
In this list, we take a look at the WWE Superstars who have earned John Cena's respect.
---
#5 WWE Superstar Seth Rollins has received praise from John Cena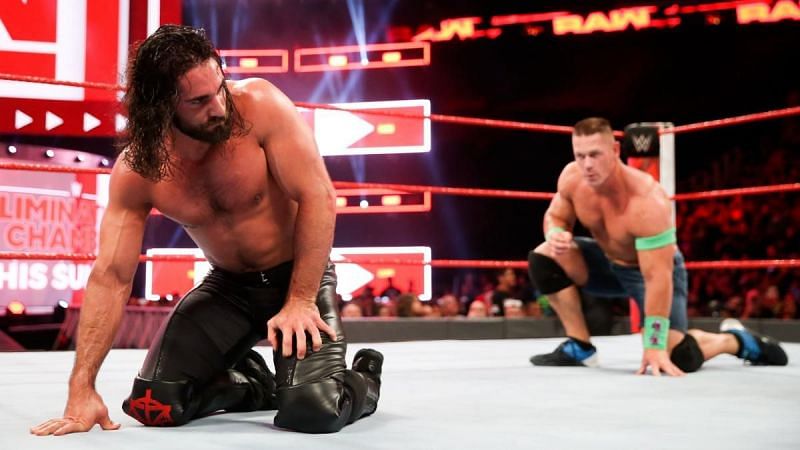 Seth Rollins has pulled off several great gimmicks extremely well in WWE. From being The Architect in The Shield to being The Messiah of WWE, Rollins has proven that he is amongst the most versatile wrestlers of all time.
Rollins and John Cena enjoy a healthy relationship backstage. The two have mutual respect and have been part of a few great rivalries. Cena recently praised Rollins' work in the ring, especially during the pandemic era when there were no crowds in attendance.
"Seth Rollins has done an unbelievable job of adapting to a crowdless environment."
Rollins responded to John Cena's comments and claimed that he was honored to be at the forefront of Cena's mind when asked the question.
"John is someone that I respect a lot as a performer, but also as a human being, so for my name to be at the forefront of his mind when asked about that, as someone who is worthwhile, it means a lot coming from him, I just have a lot of respect for him, for what he's done for the industry, but also, he's a great dude. To be thought highly of by him is cool, I do appreciate that a lot."
Rollins has been doing an incredible job in WWE and has received a lot of praise from current and former superstars for his work. He has carried the company well over the past few years and has enjoyed a few incredible reigns with the top titles.
#4 Brock Lesnar and John Cena have had intense rivalries in WWE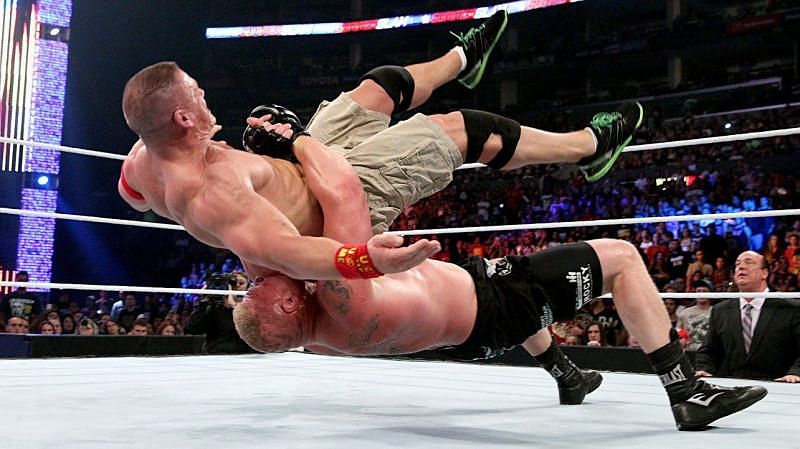 WWE fans have had a love-hate relationship with Brock Lesnar, just like John Cena. The Beast has been a part-timer for most of his time in the company. He has shown up whenever he has wanted, but he has dominated his opponents unlike any other superstar in WWE.
John Cena and Lesnar have had a few intense rivalries against each other in the company. Lesnar has been one of the few men who has been able to dominate The Leader of the Cenation inside the squared circle.
Speaking to Sports Illustrated, Cena praised Lesnar and had a few good words to say about the former Universal Champion. When asked if he believes Lesnar is the best wrestler ever, John Cena had the following to say:
"I really do think so. I genuinely think he has a good understanding of who he is. I think he's the best at when he needs to be dominant, he's the best in situations of jeopardy. He makes people better. He still has a mystique about him that will draw eyeballs to watch him and when he does he never disappoints."
The 16-time world champion is one of the biggest names in the wrestling industry. However, he too believes that Lesnar has some unique qualities that he does not possess himself. That says a lot about the caliber of The Beast.
#3 John Cena has praised WWE Superstar The Miz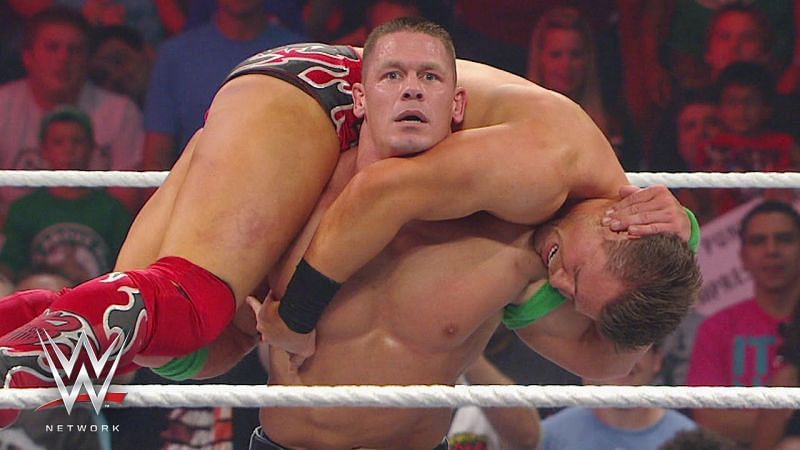 The Miz is a WWE Superstar who has worked hard throughout his career to stay on top of the company, just like John Cena. The A-Lister has enjoyed two WWE Championship reigns and has won several other titles along the way.
Miz and Cena have had several rivalries during their illustrious time in WWE. They have also worked as a tag team on a few occasions. During a recent edition of WWE 24, fans got an in-depth look at The Miz's career.
The Miz's fans and several wrestlers praised the feature, and John Cena had a few kind words to say about The Most Must-See Superstar in WWE. The 16-time world champion called Miz the hardest worker he knows and urged fans to watch the feature about him.
"WATCH THIS NOW. @mikethemiz IS the definition of both passion and perseverance. Underrated only in the eyes of ignorance. THE hardest worker I know. An inspiration to me and proof that REAL success takes earning every inch. Awesome doesn't NOT do you justice. #Respect"
During his time in the ring, Cena was known to be one of the hardest workers in the industry. It's good to know that he has a lot of respect for The Miz; someone who works extremely hard to entertain the fans and put other superstars over.
#2 Randy Orton and John Cena have mutual respect for one another outside WWE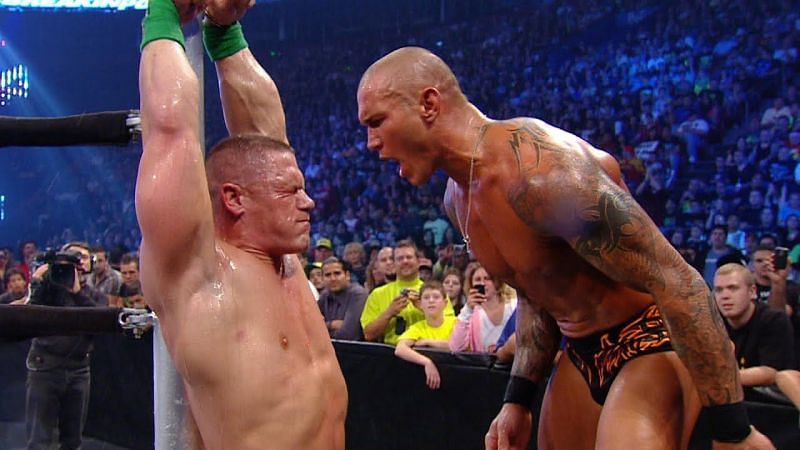 John Cena and Randy Orton have had some incredible rivalries and matches in WWE. Outside the ring, the two men share a good friendship that has been well documented by the media.
Cena and Orton have had some good things to say about each other over the years, and have praised each other's work in the ring. Speaking to Busted Open Radio, former WWE Superstar Christian spoke about a conversation he had with Cena back in 2011.
Christian was feuding with The Viper for the World Championship at the time. Cena praised Orton in a conversation with Cage after one of The Apex Predator's matches.
"Randy, for as long as he's been in the business, this is — when I was working with him for the World Title in 2011, I remember watching a monitor in the back, and I can't remember who he was wrestling. I was standing there with [John] Cena and we weren't really saying anything, and the match ended, and he looked at me, and I looked at him, and I said to John, 'The scary thing is, he doesn't know how good he is.' And Cena goes, 'He has no clue', and that's the thing with Randy – he's just so naturally gifted at what he does."
The Viper may very well become the man to break John Cena's record for the most world titles in WWE. Orton will likely go down in the history books as one of the best wrestlers WWE has ever produced.
#1 Roman Reigns has received praise from John Cena for his recent work in WWE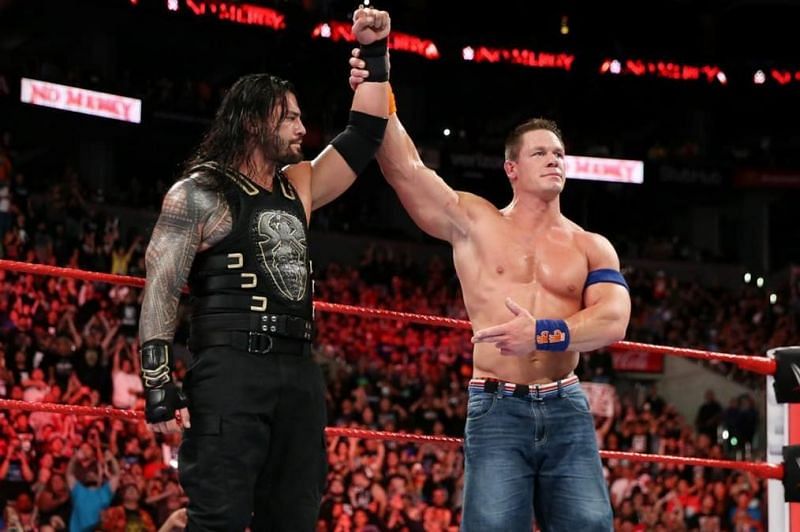 John Cena was one of the biggest names in WWE during the 2010s. Over the past few years, Roman Reigns has evolved into the role of being the biggest superstar in WWE today.
Cena and Reigns have enjoyed a few matches against each other, and The Tribal Chief has been one of the few men Cena has never beaten in his career. The 16-time world champion has paid close attention to Reigns' transformation over the past few years and believes that he has managed to bring the best version out of himself in his current heel character.
"Roman is walking in his own steps, he follows in no one's footsteps. This happens every time a marquee attraction has moved on. I went through it, everybody said it with Steve [Austin] and The Rock and I understand that. But Roman is crafting his own path, and I think it's very important to say that he's doing a great job. I feel this is the best he's ever been and that comes with comfort. I don't know what got him over that hill, but he's over it and that's a very important one to jump over."
John Cena showed a lot of respect to The Tribal Chief with his words, and even compared his own transformation to that of Reigns'.
"Taking brave choices and those brave choices haven't stopped and aren't stopping today as I continue to try to challenge myself. Roman has hit that point and that is, for audiences, a beautiful thing. Now he's going to challenge himself and entertain the audience in ways they didn't think he was capable of."
Not many will argue that Reigns has evolved into the best heel in WWE today. The Head of the Table has already carved a Hall of Fame-worthy career for himself. Will he face John Cena at SummerSlam 2021 to put an end to his career?
Categories