5 top superstars WWE nearly fired
WWE has been the ultimate destination for the majority of wrestlers in the industry for decades. Independent wrestlers train hard and try to up their game hoping to get noticed by the largest wrestling company in the world responsible for churning out some of the best wrestling talent.
While many have gone on to make it big in WWE, others have struggled and failed. Drew McIntyre, Bobby Lashley and Jinder Mahal are some of the major superstars who were released by the company before they returned to win the WWE Championship.
In recent years, WWE has also been forced to release some superstars as part of budget cut measures. Meanwhile, there are many big names in WWE today that were on the verge of getting fired. These superstars worked hard to prove their doubters wrong and continued to make it big.
Let's take a look at the five top superstars who were nearly axed by WWE years ago.
---
#5 Elias came close to being fired by WWE multiple times
WWE has some great mid-carders who have the potential to become future headliners for the company. Elias is one man who has the potential to become a top superstar for WWE. He has the looks, physique, and talent to make it big in the company.
Elias has had his fair share of big matches in WWE. However, he has also been part of several questionable storylines in the company. The Drifter's NXT career wasn't too great either, and he came close to being fired a few times.
While appearing on Chasing Glory with Lilian Garcia, Elias revealed that his name was on the list to be fired multiple times in NXT. However, he managed to make it out of the Black & Gold brand and make a name for himself on the main roster.
"One thing that I became very aware of when I got there [to WWE] was that the people that said no at my tryout were now running, they were now in charge of my job. And their minds didn't change, you know what I mean? Their minds didn't change. William Regal, he always had said yes, and he liked me, and he got me through. But the people that said, 'No, this guy ain't for me,' well they were now running the show, and they're in charge. I was put on the list to be fired multiple times in NXT for whatever reason. I was made aware two different times, which you can imagine, walking into work every day knowing that that guy right there wants to fire me, that really, it makes you, it's just everything. You could be working on eggshells, you could be working extra hard because you're like, 'No you ain't gonna take it away from me now.'"
Elias has locked horns with several top superstars, including Roman Reigns, Seth Rollins and Drew McIntyre. The Drifter's been on the main roster for over four years now and has been slowly making a name for himself.
Will Elias finally get a big push to reach the top of the RAW or SmackDown brand? Only time will tell.
#4 Seth Rollins struggled to make it through WWE NXT
Former Universal Champion Seth Rollins is arguably the future of WWE. He has been a top performer for several years and will likely remain a top name in the company for another decade or so.
The Architect is currently enjoying his time at the top of the company. However, things weren't as good for Rollins early in his career.
Seth Rollins had his fair share of problems during his time at Florida Championship Wrestling (FCW) and NXT. Former WWE writer Rob Naylor spoke about coaches being unhappy with Rollins:
"Rollins' issues were simply that he didn't always listen precisely to his coaches. He'd be told not to do a move… and then do it. He later would tell the younger talent to just bide your time and listen to what you are told, as once you get the spot you deserve, you'll then have the opportunity for more in-ring latitude, so to speak."
"I know that while Rollins was in FCW and NXT, people felt at times he had 'behavioral issues'. That was never the case in my estimation. Every coach on the staff was just as hungry at one time, so that was overblown. But he was on the bubble to be let go months prior to the Shield angle, based on the perception of some from the office."
Speaking to WWE.com in 2015, Rollins himself opened up about the issues he faced and how Triple H helped him get out of them. The Architect made it clear that WWE was close to firing him before he managed to bring about a positive change and become the first NXT Champion.
"I literally almost lost my job. I had been there for almost two years. I was very frustrated. I couldn't get along with anyone. I thought I deserved more than I did."
Seth Rollins has since been a top guy for WWE. After a successful stint with The Shield, he is focusing on becoming one of the biggest superstars the company has ever produced.
#3 Randy Orton was often on the wrong side of the WWE Wellness Policy
Randy Orton is one of the biggest names in WWE today. The Viper has won several championships during his illustrious career and still has a lot of fuel left in the tank. He may well retire as the most decorated superstar in WWE's history.
Right now, it looks like Orton is bulletproof. He is one of the few superstars who could likely remain with the company for their entire career. However, things have not always been this smooth for The Viper.
Randy Orton has had his issues with WWE's Wellness Policy. He has reportedly violated the same on multiple occasions. WWE's rules suggest that any superstar who violates the Wellness Policy three times will be terminated immediately. Orton came close to being terminated, according to a 2012 report:
"A WWE source described the meeting's atmosphere as "hostile;" it was determined that a further decision concerning Orton awaits. The report adds there are "several" officials lobbying for his termination as a cost-cutting measure. They feel his lucrative 10-year contract—signed in January 2010—can no longer be justified if he is brought back in a mid-level role. His second suspension hinders WWE from continuing to feature Orton in a headline role since a third drug-testing policy infraction would result in automatic termination."
Thankfully, the 14-time World Champion decided to change his lifestyle around for the better. He has been able to carry on without any major hiccups and has successfully made it to the headline role many times.
#2 John Cena was saved by a prominent figure in WWE
The WWE Universe cannot wait for John Cena's return to the ring. Once known as the face of WWE, Cena is now spicing things up on the silver screen and making himself a megastar.
Many would believe that Cena has had the most perfect WWE career. However, The Doctor of Thuganomics too had his fair share of problems early in his career. In an interview with Uproxx, Cena praised Becky Lynch's rise to the top and revealed that he too was close to being fired by WWE:
"I was about to be fired. I was in a Becky Lynch-type scenario where I was forgotten and I was about to be let go and I took a chance on myself. I took a chance on redefining my character and it worked and I've never stopped. And I wasn't the corporate headquarters first, second, third, fourth, fifth or sixth choice, but the audience began to make noise."
"And I connected with the audience and the rest is history. And that's what's wonderful about WWE. It truly is an enterprise system for any performer to connect with the audience. And once they connect with the audience, it doesn't matter if they're male or female."
According to pro wrestling journalist Dave Meltzer, John Cena's career was saved by none other than Stephanie McMahon. Stephanie took a liking to Cena early in his career and helped him avoid getting released early on.
"John Cena worked OVW for a while, which is where he really learned his craft. He was called up too soon, which everyone knew, and there's political reasons why that happened, and it nearly cost him his career. If it wasn't for Stephanie McMahon taking a liking to him after they'd just about decided to let him go, he could've been gone."
Fans can thank Stephanie for saving Cena's career and helping him become one of the biggest names in the industry. He is an inspiration to many current superstars and will remain one of the most philanthropic athletes of all time.
#1 A WWE Legend helped Becky Lynch keep her job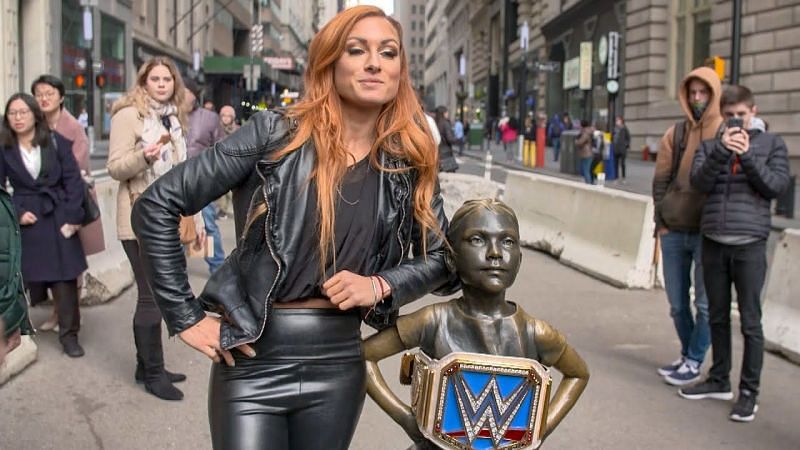 Becky Lynch is one of WWE's biggest and best success stories. The Irish Superstar started her career after being part of the developmental circuit and went on to become the first-ever women's double champion in the company.
Lynch has been an inspiration to many struggling wrestlers, and she will likely go down in history as one of the greatest female WWE Superstars of all time.
Like many others on the list, Lynch came close to being fired by WWE early in her career. Even before The Man made it to NXT, she was close to being released. However, she worked hard and got support from the late Dusty Rhodes.
"A couple of weeks before this they were going to let me go. I've been fighting to survive this place since before day one. I'll never be above what I had to do to stay alive."
Rhodes influenced several careers during his time in WWE. The legend helped shape the career of one of the best female superstars.
Becky Lynch is currently one of the most sought-after wrestlers in the industry. However, things could have been very different had WWE decided to fire her early on.
Categories