5 Finishes to Edge vs Seth Rollins 2: Big stipulation match planned, Former Universal title contender to interfere?
Although it seemed like Edge would move on from Seth Rollins after SummerSlam, that wasn't the case. Edge defeated Seth Rollins at SummerSlam, and on the following episode of SmackDown, he vowed to renew his focus on the Universal Championship again.
Seth Rollins, on the other hand, mockingly said that if he wanted to work his way back to the Universal title, he needed to be more like Edge. On the September 3rd episode of SmackDown, Seth Rollins faced Cesaro yet again.
The match ended in a disqualification, but Seth Rollins used a lot of Edge's moves throughout the match to send a message to The Rated-R Superstar. Once Seth Rollins launched the post-match attack on Cesaro, Edge knew that enough was enough.
Edge made the save and proceeded to challenge Seth Rollins to a match next week on SmackDown. It isn't just any other episode of SmackDown – it will take place at the iconic Madison Square Garden in New York City.
Here are five possible finishes for the blockbuster SummerSlam rematch on SmackDown next week:
---
#5. Seth Rollins beats Edge to set up a trilogy bout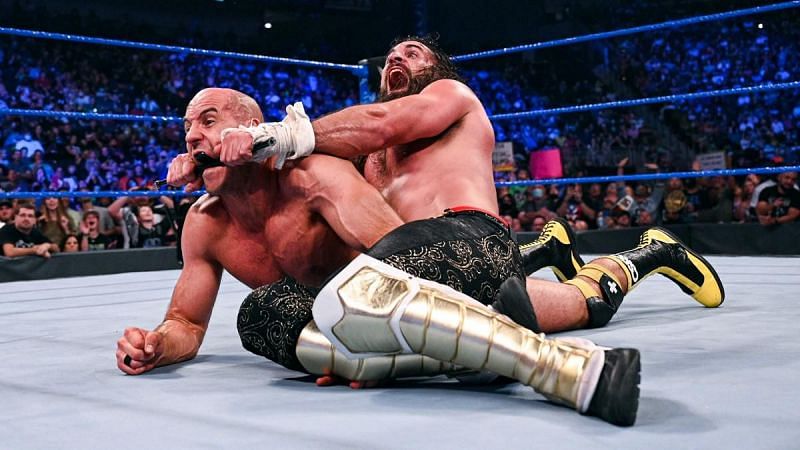 This is the most logical finish that can happen on SmackDown next week. Some fans were a bit surprised that Edge defeated the younger Seth Rollins at SummerSlam 2021.
However, the fact that Edge is a popular part-time star as well as it being a great match ensured that the crowd at SummerSlam wasn't disappointed with the outcome.
It's clear that WWE is continuing this feud, and having a match on SmackDown at Madison Square Garden serves two purposes – one, it's a blockbuster match on free television. Second, it can easily set up a marquee match at Extreme Rules 2021.
Edge has wrestled a lot this year and that looks like it will continue. Seth Rollins doesn't even have to win clean. Since he's a heel, a dirty finish that costs Edge will do enough to get heat on Seth Rollins as well as set up a trilogy bout at Extreme Rules 2021.
Not only this, but their third bout can have a big stipulation. This just might be what WWE is planning for the feud.
#4. Cesaro to interfere and help Edge beat Seth Rollins?
Cesaro has been on the losing end to Seth Rollins despite getting the better of him earlier this year. It seemed to be right around the time when Edge chose Seth Rollins as his SummerSlam opponent.
To build Seth Rollins back up, they had him beat Cesaro on multiple occasions. This week on SmackDown, Cesaro won by disqualification, but a post-match assault was launched on him.
Cesaro interfering and helping Edge win the second bout would help the storyline make sense, although it may not necessarily be the most exciting finish.
---
#3. A Disqualification finish
This would, admittedly, cause a stinker of a reaction from the Madison Square Garden crowd, and justifiably so. Seth Rollins vs Edge isn't a match that we get often. For all we know, late August to late September might be the only instances where we see the two men crossing paths in WWE.
A disqualification finish would be lazy writing by the WWE creative team, but it would still set up another Edge vs Seth Rollins match at Extreme Rules 2021. Hopefully, this isn't what happens.
#2. A bizarre finish results in Edge and Seth Rollins entering the Universal title picture
With all the mention of the Universal Championship picture and Finn Balor, there are other names present as well. Brock Lesnar is on top of that list, and he will make his return to SmackDown at Madison Square Garden next week.
However, it still seems unlikely that Brock Lesnar will compete in the ring until later this year – perhaps Crown Jewel or Survivor Series. Until then, there needs to be more challengers.
Edge and Seth Rollins could have an inconclusive finish to their match that ultimately results in them entering the Universal title picture in time for Extreme Rules 2021. A Triple Threat match between Roman Reigns, Edge, and Seth Rollins is far more exciting than another Reigns vs Edge match.
---
#1. Edge beats Seth Rollins clean
Perhaps the cleanest way WWE can finish their feud is with another win for Edge. However, there could be long-lasting effects. Seth Rollins has long been compared to Edge (and Shawn Michaels in 2015 as well), and losing to him clean again might make fans perceive him as an inferior version of The Rated-R Superstar.
With that said, it's hard to underestimate the power of a great match. Live audiences love Edge and he gets one of the best reactions on the WWE roster. If Edge and Seth Rollins can have a match nearly as good as their bout at SummerSlam, then The Rated-R Superstar winning clean could be a well-received finish.
Categories