10 acting cameos by WWE superstars you probably didn't know
The world of sports entertainment has helped WWE Superstars become some of the most well-known and influential individuals in the industry. Many WWE Superstars have managed to pull thousands of fans to the arena, and this unique quality has boosted their appeal.
Over the years, several top superstars have decided to switch to acting careers. After Dwayne 'The Rock' Johnson made a full-time switch to become a Hollywood megastar, many WWE Superstars followed in his footsteps.
There are a number of current WWE Superstars that have appeared in a handful of movies. Others are gearing up to play prominent roles in upcoming films.
However, many superstars have made acting cameos in movies that many fans might not know or remember. Take a look at the 10 acting cameos by WWE Superstars you probably don't know about.
---
#10. WWE Superstar Zelina Vega was part of Dorothy and the Witches of Oz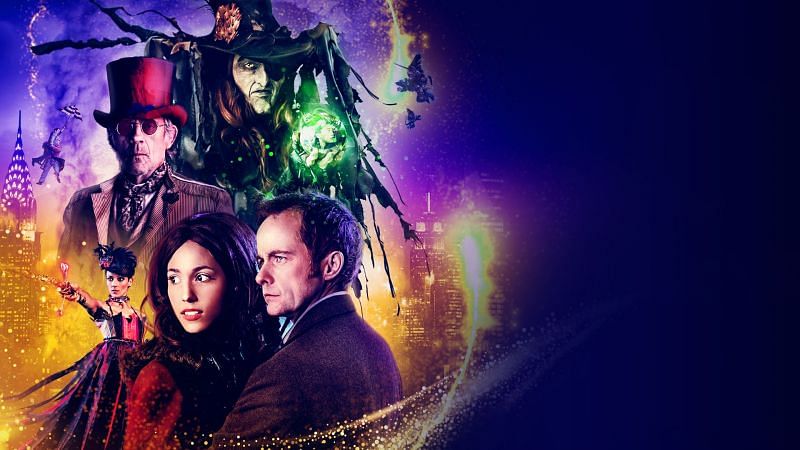 Zelina Vega recently made her return to WWE after being released by the company. Vega was seen as a great manager in the company and has proven herself in the ring in recent months.
Outside the ring, fans are aware of Vega's work as a cosplayer. She portrayed professional wrestler AJ Lee in the sports drama film Fighting with My Family.
In 2012, Vega made a cameo appearance in the film Dorothy and the Witches of Oz as Astoria. Former WWE Superstar Al Snow also played a minor role in the movie.
---
#9. Randy Orton has played many roles outside WWE, including cameos in Long Shot, Changeland, and Blazing Samurai
14-time WWE World Champion Randy Orton does not need to prove his wrestling skills to anyone in the industry. He is arguably one of the greatest sports entertainers of all time, and he hasn't tried to branch out into the world of acting full-time like The Rock, Batista, or John Cena.
Orton has played the lead role in two WWE Studios produced movies titled 12 Rounds 2: Reloaded and The Condemned 2. Apart from playing lead roles, The Viper has also played cameos in Long Shot (2019) and Changeland (2019).
While the former WWE Champion has a very short role in Long Shot as Jimmy P, he delivers a few lines in Changeland as Christopher Brooks.
That's not all, as The Viper has also lent his voice to the animated film Blazing Samurai. He appears in a cameo role as Teddy in the film.
#8. WWE's Celtic Warrior Sheamus was a zombie in Assault of Darkness
Ever wondered where WWE Superstar Sheamus got his nickname 'The Celtic Warrior' from? The former WWE Champion has played major roles in a couple of Hollywood movies over the years, including Teenage Mutant Ninja Turtles: Out of the Shadows and The Buddy Games.
In 2009, Sheamus played a minor role in an Irish horror film titled Assault of Darkness. The former WWE Champion played a zombie named Celtic Warrior that appears at the beginning of the film being hunted by Mr. Hunter. He is first shot in the chest with a compound bow, then set on fire with a second shot.
---
#7. MacGruber starred several WWE Superstars including MVP
MVP has been one of the biggest names on WWE RAW in recent months. He is working with Bobby Lashley on the brand to help him remain The All Mighty WWE Champion.
In 2010, an SNL sketch named MacGruber was turned into a feature film. MacGruber was essentially a direct parody of a hit 80s TV show MacGyver.
In one major scene in the film, MacGruber recruits several WWE Superstars, including MVP, to his faction. Chris Jericho has a few lines in the film, while MVP, The Great Khali, Big Show, and Kane only appear on-screen for a few minutes.
#6. Blood Out offered WWE Champion Bobby Lashley a minor role
Just like MVP, WWE Champion Bobby Lashley also made a cameo in a feature film in 2011. While The All Mighty has stayed away from acting jobs for most of his career, the superstar had a small role in a film a decade ago.
Lashley was part of a direct-to-video action film called Blood Out. The movie revolves around a small-town sheriff who goes undercover to find his brother's killer and avenge his death. Lashley plays the role of Hector in the film and has a minor role.
---
#5. WWE Superstar John Morrison made an appearance in Birds of Prey
John Morrison is one of the most popular WWE Superstars. America's Moist Wanted has featured in several movies, music videos, and television shows during his career.
Many fans would have seen him appear in the TV series titled GLOW. That's not all, as Morrison has also produced a couple of movies himself.
In the 2020 film Birds of Prey, Morrison was employed as a stuntman. He also made a cameo in the movie and appeared as a Lords Gang Member. Only hawk-eyed fans will be able to spot Morrison during the scene where he makes an appearance.
#4. Former WWE Champion Brock Lesnar made an appearance in Foxcatcher
Brock Lesnar has preferred to let his fists do the talking in WWE. The Beast Incarnate is not the best on the mic, and it would be a little odd to watch him play a major role in a film.
In 2014, Lesnar made a blink-and-you'll-miss-it appearance in the sports drama film Foxcatcher. The film stars Steve Carell, Channing Tatum, and Mark Ruffalo and is loosely based on the events surrounding wrestling enthusiast John du Pont, who is an heir to the du Pont family fortune.
Lesnar appears for barely a couple of seconds during the film and can be seen during a wrestler weigh-in shot. Did you spot the former WWE Champion during the movie?
---
#3. Former WWE Champion Seth Rollins appeared in Sharknado: The 4th Awakens and Like a Boss
Seth Rollins is busy playing one of the most interesting characters in WWE today. Over the years, The Drip King has appeared in a few movies to expand his portfolio. Many fans would have seen Rollins play a prominent role in the film Armed Response.
However, he has also appeared in the 2014 sci-fi movie Sharknado: The 4th Awakens. Rollins plays the role of Astro-X Lopez in the movie and appears in the film for only a few minutes.
In 2020, the former WWE Champion also made a cameo in Like a Boss. Rollins appears as Byron in the comedy film and has a minor role.
#2. Psych: The Movie starred WWE Superstar Charlotte Flair in a minor role
WWE RAW Women's Champion Charlotte Flair is all geared up to play the lead role in a remake of Walking Tall. It will be one of Flair's first acting roles on the silver screen.
In 2017, Flair played a small role in the movie called Psych: The Movie. The Queen played the role of Heather Rockrear in the film and appeared on screen for just a few minutes.
Psych: The Movie stars some top actors including James Roday and Zachary Levi. The movie also sees John Cena in a cameo role.
---
#1. WWE Superstar Roman Reigns appeared in a minor role in Netflix's The Wrong Missy
WWE fans watched Roman Reigns star in a major role in the movie Fast & Furious: Hobbs & Shaw in 2019. Reigns has been one of the biggest WWE Superstars for several years now, and he's focused more on his in-ring career than his acting career.
In 2020, Reigns took a break from the WWE ring. During that time, he played a minor role in the movie called The Wrong Missy. The Netflix movie saw Reigns make a cameo as Tatted Meathead.
Even though The Tribal Chief played a small role in the movie, his fans would love to watch their favorite WWE Superstar perform on the silver screen.
Categories