5 Times Vince McMahon pranked WWE Superstars/employees (and how they reacted)
As the Chairman and CEO of WWE, Vince McMahon is undoubtedly the most important person in the company.
WWE Superstars are often asked in out-of-character interviews about their behind-the-scenes relationship with Vince McMahon. While some make it clear that they talk strictly business with their boss, others have become so close with WWE's top decision-maker that they even consider him a friend.
In recent years, the WWE Universe has learned more about Vince McMahon than ever before, with Superstars often revealing amusing stories about the mastermind behind WWE on social media and in media interviews.
With that in mind, let's count down five stories that have emerged about Vince McMahon attempting to play a prank on WWE Superstars/employees.
---
#5 Vince McMahon pranked AJ Styles
The final episode of WWE Network docuseries 'Undertaker: The Last Ride' revolved around The Undertaker agreeing to have one more match against AJ Styles at WrestleMania 36.
Styles presented the idea to The Undertaker after watching him discuss the possibility of having another match during an appearance on Steve Austin's Broken Skull Sessions show.
At that point, The Undertaker had all but decided that he was finished as an in-ring competitor, so he told "The Phenomenal One" that he needed time to think about his offer.
Then, once he agreed to do the match, the WWE icon contacted Vince McMahon and told him to prank Styles by saying he wants to face somebody else at WrestleMania instead.
"Vince, he goes, 'Well, I talked to 'Taker and there's some kid in Tennessee he wants to get over and stuff like that.' I'm like, 'What?' He goes, 'No, I'm serious, you probably need to call him.'"
Styles called The Undertaker, who tried to continue the prank, but the two-time WWE Champion immediately knew that they were joking around with him.
"And then I called 'Taker. 'Listen, there's this younger kid that I want to put over.' I was like, 'Bullc***, man! That's bull.' You know, so they tried to rib me, but come on!"
While this was merely a light-hearted joke involving both Vince McMahon and The Undertaker, some of the other examples in this list are a lot more serious, at least for the person on the receiving end of the prank!
#4 Vince McMahon pranked Rob Bartlett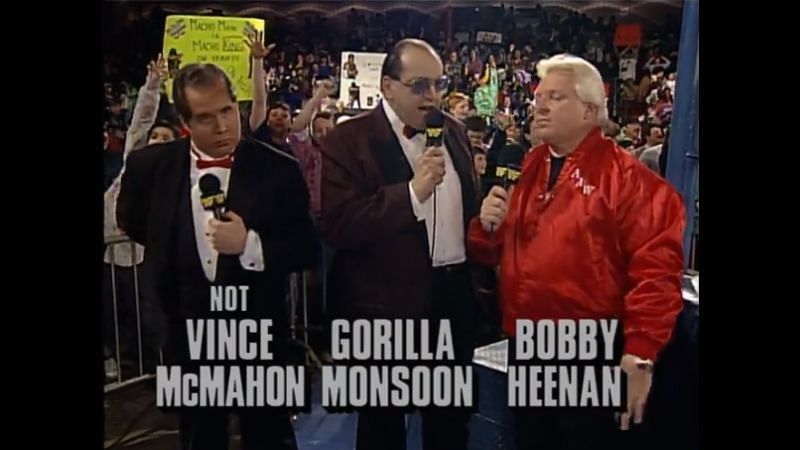 WWE fans have seen multiple Superstars mock Vince McMahon by impersonating or dressing up as him in televised segments, but former commentator Rob Bartlett took things to a whole new level during his brief stint at the announce desk in 1993.
Bartlett, a comedian and radio personality, had limited knowledge about WWE and the wrestling business when he commentated alongside Vince McMahon and "Macho Man" Randy Savage for three months on RAW.
Speaking on NotSam Wrestling in 2019, Bartlett recalled the time that he decided to impersonate Vince McMahon for an entire RAW episode whilst working alongside McMahon and Savage's replacements for that week, Gorilla Monsoon and Bobby Heenan.
One week later, Vince McMahon jokingly fired Bartlett in a WWE production meeting, while he got his own back by sending the commentator to the wrong venue for an episode of RAW.
"For a second, I was like, 'You can't fire me because I'm going to quit.' But it was really funny, so he got me back by not telling me that they were gonna be in the Mid-Hudson Civic Center, so I showed up at the Manhattan Center."
Vince McMahon was so determined to prank Bartlett that he even hired a camera crew to film a remote shot of him standing alone in the wrong arena.
#2 Vince McMahon pranked JBL
Many of the pranks in this list involve people who Vince McMahon has known for a long time. However, in JBL's case, the WWE Chairman decided to play a prank on his future World Champion during their first meeting.
Speaking to WWE's official website in 2014, JBL recalled that he went to the company's headquarters in Stamford, Connecticut in 1995 to hold talks with Vince McMahon after refusing an offer from WCW.
"He [Vince McMahon] sat me down, and with a complete straight face he said, 'We're going to make you a bad guy ballerina.' I'd always been a cowboy and I'd already told WCW I wasn't coming. I looked at him and thought, 'Oh God, I've made the worst decision of my life.' I said to him, 'Really?' And he said, 'Yeah, it'll be great. You're going to be a ballerina that's a real bad guy.'"
Vince McMahon then began to laugh and reassured JBL, then known as Justin "Hawk" Bradshaw, that he could use his cowboy gimmick.
#1 Vince McMahon pranked Mark Henry
Mark Henry recalled on Steve Austin's Broken Skull Sessions show that Vince McMahon once sent him to the ring to face an opponent that did not even exist.
The prank took place during a SmackDown dark match in June 2011, with Henry incorrectly under the impression that he was set to take on Sin Cara. After the masked Superstar failed to show up, "The World's Strongest Man" went backstage and started to destroy parts of the WWE set.
"I go down the hallways and I kick Vince's door open and he's gone. Started calling Vince, 'Man, I quit, this is the last time. Nobody ribs me, I'm a grown a** man.' Vince calls, 'Why did you get so bent out of shape about that? We just playing around.'" [H/T Wrestling Inc.]
Vince McMahon issued a remorseful apology to Henry before explaining that he wanted the two-time Olympian to show that kind of anger as part of his WWE persona.
Henry told Austin that the incident inspired the creation of his "Hall of Pain" gimmick, which led to him winning the World Heavyweight Championship from Randy Orton at Night of Champions 2011.
Categories