News Roundup: Backstage update on AEW signing CM Punk and Daniel Bryan, WWE legend says Undertaker could wrestle again
Thanks for joining us on another edition of the WWE News Roundup and this week, we're starting off big with fresh updates on CM Punk and Daniel Bryan signing with All Elite Wrestling. We also have a WWE Hall of Famer saying that we could see The Undertaker wrestle one more time in front of fans in WWE before retiring for good.
Read on for the full details on these two stories and a whole lot more.
---
#5 Latest news on AEW signing former WWE stars Daniel Bryan and CM Punk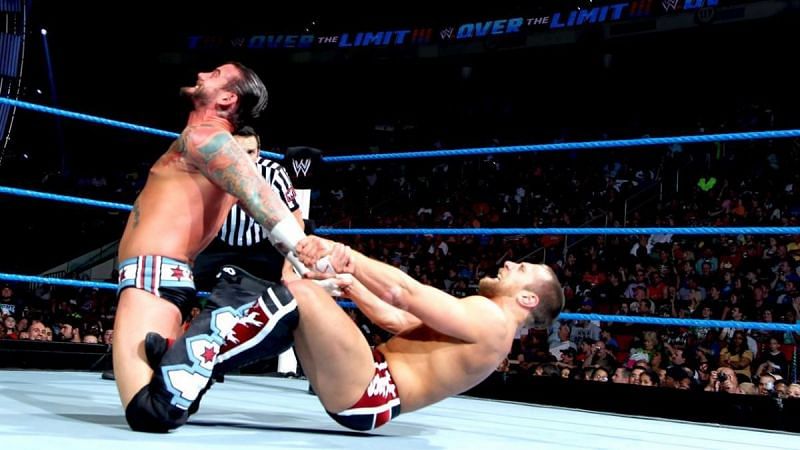 Rumors of AEW signing former WWE stars CM Punk and Daniel Bryan have only intensified over the last few days. Cassidy Haynes of Bodyslam.net first reported the two massive signings and it's fair to say that the rumors have taken the wrestling world by storm.
On the latest edition of Wrestling Observer Radio, Dave Meltzer gave his take on the situation and seemed to hint that both Punk and Bryan are set to sign with All Elite Wrestling. Meltzer expects them both to sign with the promotion unless "something falls apart":
I think everyone knows that unless something falls apart, they're both coming in because if these deals were not close, they were probably not already done, and there are signs that both are done but I cannot confirm because no one in the company will confirm it but there are moves that I know of that are being made that would only be made if CM Punk was coming in. With Danielson [Daniel Bryan], I can't say that I know any moves that would be made that would confirm Danielson is coming in, that I know of, but I also know that Danielson was most likely, 90% or better, going to the company that has the relationship with New Japan and obviously, you know the story, Nick Khan did not get the deal done and it was not just a Bryan Danielson deal, it was certainly a part of the original talks but it was not the crux of the original talks but it was amongst the reason the talks started, without a doubt, and one of the reasons they wanted to expedite those talks and at the end of the day New Japan did not make that deal. H/T: Sportskeeda
CM Punk is expected to make his AEW debut in his hometown of Chicago in early September if he ends up signing with the promotion.
#4 Booker T feels that we will see The Undertaker wrestle again in WWE
The Undertaker wrestled his last match at WWE WrestleMania 36 last year, defeating AJ Styles in the first-ever Boneyard match. Although that match is expected to be The Deadman's last match, WWE Hall of Famer Booker T feels that we could see the Undertaker wrestle one more time.
Speaking on his Hall of Fame podcast, Booker T said that while the Boneyard match was a great way to go out, he felt that we could see The Deadman wrestle one more time in front of fans in WWE:
That was a great way to go out (Boneyard match with AJ Styles), but just think about what we just saw at WWE Money in the Bank (pay-per-view). All of those people, all of those fans, giving you that perfect send-off, properly. That you will have literally archived throughout history and the annals of time. You think it's not hard to see that and do that? I think we might see The Undertaker make that walk just one more time. I don't know when it's going to be. I don't know if it's going to be this year, next year. I don't know when it's going to be. I do think we're going to see The Undertaker don the jacket and the hat and make that walk one more time.
Before the Boneyard match against AJ Styles, The Deadman's previous match was the disaster against Goldberg in Saudi Arabia.
#3 Eric Bischoff on Vince McMahon's reasoning behind booking Karrion Kross to lose to Jeff Hardy on WWE Raw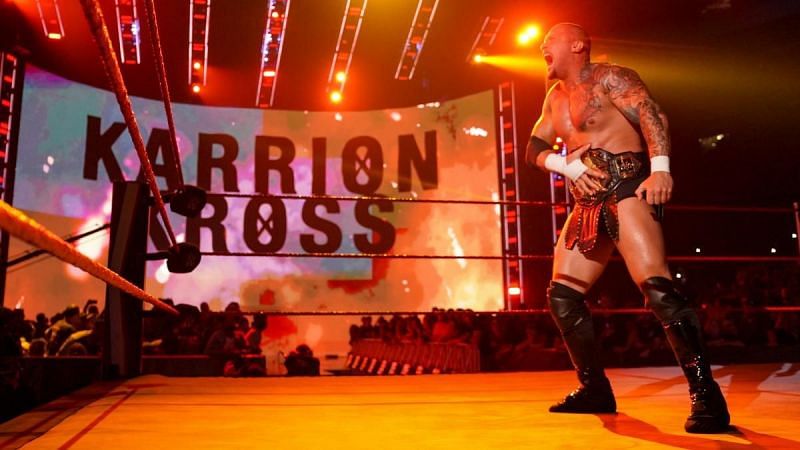 While Karrion Kross has been booked as an unstoppable monster during his time in WWE NXT, things did not go that way for the NXT Champion during his main roster debut against Jeff Hardy on RAW last week. Kross surprisingly lost the match in short order and this caused quite a stir among both fans and critics alike.
One person with a slightly different take on Kross losing to Jeff Hardy was former WCW executive Eric Bischoff. The WWE Hall of Famer felt that having Kross lose to Hardy may be a way for Vince McMahon to test the NXT Champion and his professionalism:
I'm with you. You've got to let these things play out. And I don't know what the rationale or psychology is before having a guy lose, especially someone coming out of WWE NXT and being his first shot at the roster and coming out and losing. There may be a reason for it. It may be Vince's way of testing. He may want to see how a talent reacts in that situation. Is he a pro? Is she a pro? You get boo-boo faces, as they say. You know, you get to see a lot in someone when you look them in the eye when they come through that curtain after they've had their first match, and it was a loss. Maybe that's it. But I'm with you, man. Let the story play out. Let's see where it goes. H/T: Sportskeeda
During the latest WWE NXT tapings, a segment with Karrion Kross had to be re-shot because of the amount of Jeff Hardy chants from the crowd. The segment saw Kross cut a promo on Samoa Joe before Joe did a run-in, and had to be re-shot at the end of the taping.
#2 Carmella comments on watching WWE Money In The Bank from home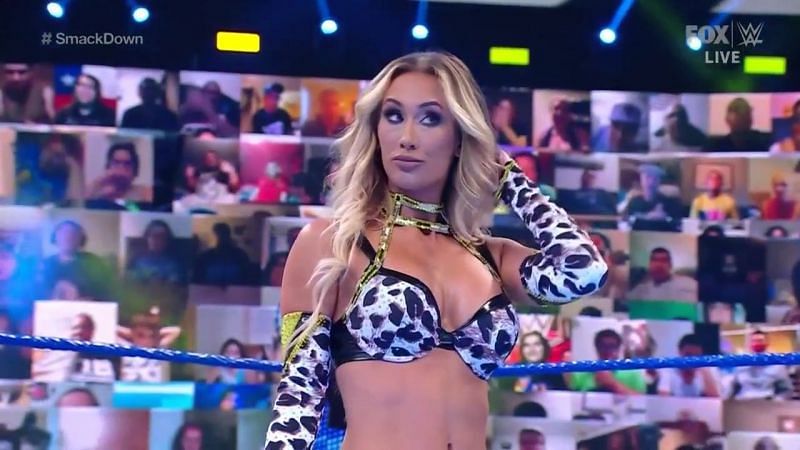 One notable absentee from the WWE Money In The Bank pay-per-view card was former SmackDown Women's Champion Carmella, who was also the first holder of the women's MITB briefcase. Carmella ended up holding the briefcase for 287 days before successfully cashing in on Charlotte Flair.
In a recent interview with Sportskeeda Wrestling's Rick Ucchino, Carmella opened up about watching MITB from home and said that it was a weird feeling watching the show on television this year:
To me, the Money In The Bank pay-per-view is my favourite PPV of the year. That's where Carmella thrives, you know, Mella is Money, she was the first Miss Money In The Bank, so it was very weird to be watching it from my couch (laughs), very weird although it was nice to have a little glass of wine so that made it a little bit better but it was definitely weird. It was my first time not being a part of the Money In The Bank pay-per-view. The first one I won the briefcase, the second one I had my championship match against Asuka, the following year I was in the ladder match. Last year I got to do the ladder match at [WWE] Headquarters which was wild and insane. So it was very weird not to be a part of it but it is what it is. H/T: Sportskeeda
Carmella faced Bianca Belair on WWE SmackDown from the Rolling Loud festival last week, but turned up short against the champion.
During an interview with Sportskeeda, Carmella also opened up about her run as Miss Money In The Bank.
#1 Tucker baffled with how WWE handled Otis-Mandy Rose storyline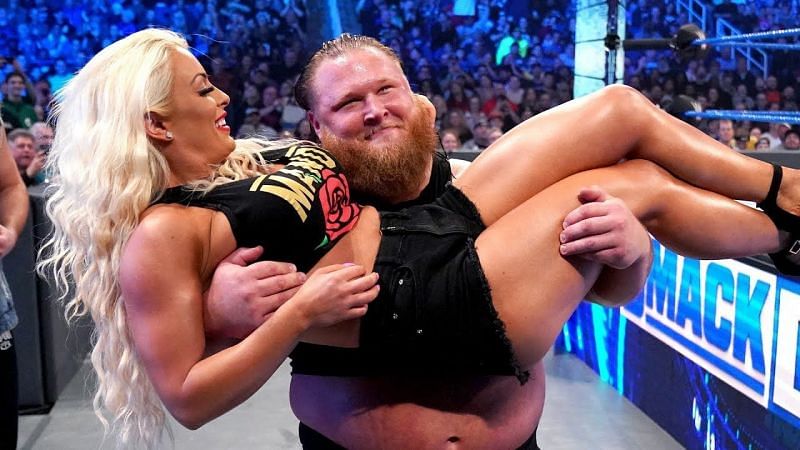 One of the most popular storylines in WWE last year, heading into WrestleMania 36, was the romance angle with Otis and Mandy Rose which saw Otis defeating Dolph Ziggler at the Show of Shows.
However, the storyline ended up going nowhere and was pushed to the backburner in summer 2020 as Otis feuded with The Miz and Mandy Rose feuded with Sonya Deville.
Otis' former tag-team partner Levi Cooper f.k.a. Tucker, who was released by WWE earlier this year, commented on the storyline abruptly fizzling out. Tucker, who ended up turning on Otis during his feud with The Miz, recently spoke on The Angle podcast:
The lack of pay-off, I have no idea. I'll probably go to my grave not understanding how you can have a six-month storyline that was definitely a top-five storyline and, maybe in terms of fan interaction, the top one in the company, and then just basically have those two go their separate ways and pretend like it never happened in the first place. Very insulting to the audience, in my opinion. It makes them [fans] much less likely to invest in a long-term story the next time.
Tucker's sentiments on the subject definitely reflect that of a large section of fans at the time who were baffled that the storyline ended so suddenly.
Categories